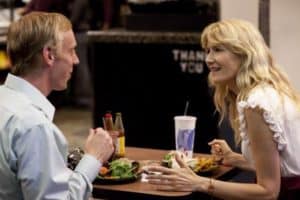 Before I get into previewing the season (series?) finale of HBO's Enlightened, can I just say that last week's episode, "Consider Helen", was one of the best episodes of TV I've seen this year? It was fascinating, transcendent, and utterly heartbreaking, and I loved every second of it.
But we're not here to preview last week's penultimate episode; it's time for the 10th and last episode of Enlightened, an episode that looks to combine both Amy's personal and professional lives for the first time in a little while. Typically, Enlightened takes an either/or approach to telling the story of Amy Jellicoe, but in "Burn It Down", we get to check out her progress in both fields one final time this season.
On the personal front, Levi's not happy and judging by his body language in the preview below, he may have reached his breaking point with the drugs and alcohol. As much as he complains about Amy and how she won't ever truly leave him alone, despite their understanding in "The Weekend", he needs that empathetic side of Amy now more than ever and since we know she's not fully over Levi yet, I'd say she'll be happy to take care of him. Professionally, Amy finally scores an appointment with Damon and the top brass at work to present the research she's been doing all season. Of all the variant reactions to Amy, I'm most surprised at Damon, as he went from threatening her in the pilot to coming through for her in the finale. We've not seen much of him this season, but it's ironic that Amy has spent her time railing against corporations and executives, yet an executive at her own company may be the one to give her her big opportunity to shine.
Of course, Dougie won't make that easy, as there are still sore feelings from their night at Bank and the subsequent reprimanding he took from Judy over his actions. However, as much as she can shoot herself in the foot sometimes, I have a feeling that Amy Jellicoe may finally get to be the agent of change she's so desperately wanted to be all season, Dougie or no Dougie.
Enlightened airs tonight at 9:30 on HBO.