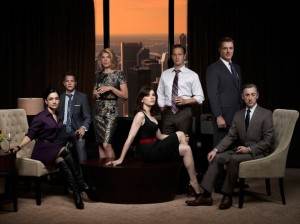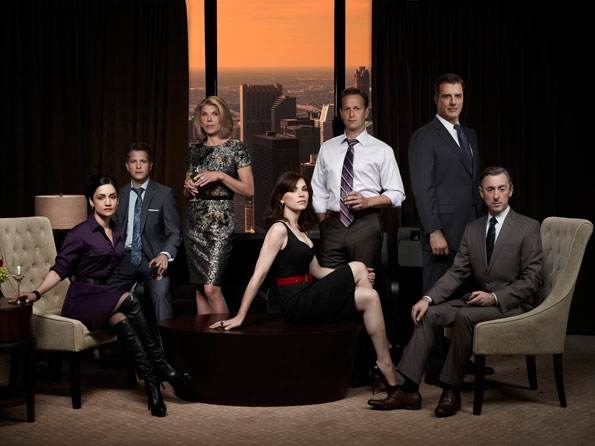 Tonight's episode of The Good Wife will be a challenging one for those at Lockhart Gardner as the State Attorney's investigation into Will (Josh Charles) steps up a gear exposing personal matters. Eli (Alan Cumming) is also up against it as a new rival shakes his confidence.
The episode title is "Whiskey Tango Foxtrot" which in true Good Wife form has more than one meaning. Of course it reads as 'WTF' which could easily be about the Will investigation, but it also has a military meaning and relates to this week's case. Will and Alicia (Julianna Margulies) are facing a difficult military judge who we last saw in "Double Jeopardy" from season 2. There was definitely a difference in style and opinion between Will and Judge Leora Kuhn (Linda Emond) when they last argued before her; is this going to be a repeat session? Lt. Terrence Hicks (Patrick Breen), the military lawyer that they worked with on that case will also be featuring in this episode. What do you think will bring them to military court again?
Alicia is currently unaware of Will's predicament, though he almost told her last week and tested the waters regarding how much Peter (Chris Noth) knows about their relationship. Alicia believes that Peter won't care about it, but considering how jealous Peter has been of her friendship with Will in the past she must be deluding herself if she thinks this is the case. Is Will going to tell her about what is going on or will she find out about it from someone else? Will's failure to disclose such a severe matter as this could make the case they're working on together more difficult and this might also be the deal breaker that could 'pause' their relationship. Josh Charles discussed Will's motives for not telling Alicia with Entertainment Weekly saying "He wants to believe that he can fight this battle, and he knows that it's gonna complicate things at work and complicate things with their relationship."
Another person who believes that this relationship is going to have a negative impact is Diane (Christine Baranski). Diane was less than happy when she found out about their out of work activities and with the firm under threat she issues an ultimatum. It probably doesn't help that Wendy Scott-Carr (Anika Noni Rose) resurfaces with the news that she is leading the investigation and Diane concludes that it is motivated by Will's romantic entanglements. Will and Diane have previously clashed about personal and professional matters mixing, both about Alicia and ballistics expert Kurt McVeigh (guest star Gary Cole- can her come back please?) so this is not a new discussion for the pair. However now the firm's future is in jeopardy so Diane is likely to do anything to protect it, and this could even mean sacrificing Alicia. Will also said previously that if it came to it then he would side with the firm, is this going to prove to be the case tonight?
One person who could be an important force in helping this investigation go away is Kalinda (Archie Panjabi), who Will asked for help last week. If I was in trouble Kalinda would be the one I would turn to first as she really does have a special talent for finding the right kind of information, it's probably the sexy boots of justice that she's rocking. If Kalinda is the one to 'save' Will could this be the start of a reconciliation between her and Alicia? Kalinda of course has her own personal stuff going on and her relationship with Cary (Matt Czuchry) got even more complicated thanks to a post-hail of bullets kiss that ended with Cary walking away. There hasn't been a huge amount of Kalinda this season and hopefully there will be more mileage to come out of this undefined relationship between Cary and her. This season has also been missing the Kalinda/Alicia dynamic and whilst I don't expect them to be BFFs immediately a case that requires them to work together would be very much appreciated. Plus Alicia really needs some friends.
Someone who isn't making friends is Eli as tonight he will be taught a lesson by new rival Stacie Hall, played by the terrific Amy Sedaris. The Good Wife casting directors continue to bring really wonderful guest stars and I'm thoroughly looking forward to the sparring match between Eli and Stacie. Eli is often the most confident in the room and even though we have seen him personally vulnerable before it will be good to see him shaken in the business that he normally dominates.
Check out the promo for "Whiskey Tango Foxtrot" below.