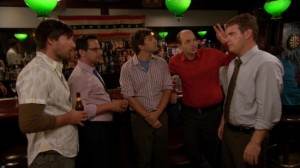 Break out the Yobogoya because it's time to feast!
On second thought, hold the Yobogoya (my stomach can't take it), but still stick around for the feast, as it looks like The League is taking on Thanksgiving tonight. While the show had an episode about Sukkot earlier this season, look for all new levels of depravity when Jeff Goldblum guest stars as Ruxin's dad and Sarah Silverman makes an appearance as Andre's sister.
From the looks of the preview below, Goldblum does a scary-good joke of turning himself into the senior Ruxin, topped off by "ironic" glasses and some needling of the guys, while Silverman gets a chance to be all types of gross and hilarious with Jenny (Katie Aselton), as her character apparently had a thing with Kevin in the past. If the thought of pee drinking and holiday hook-ups doesn't warm the cockles of your heart, we'll get another Taco Corp. investment idea (I still like the pee bib idea) and the ultimate battle of man vs. beast, since Kevin and Jenny's new pet isn't working out so well.
The League airs Thursdays at 10:30 on FX.
What about The League are you most thankful for? (I'm personally thankful that I can Shiva Blast whenever I want. Amen.)