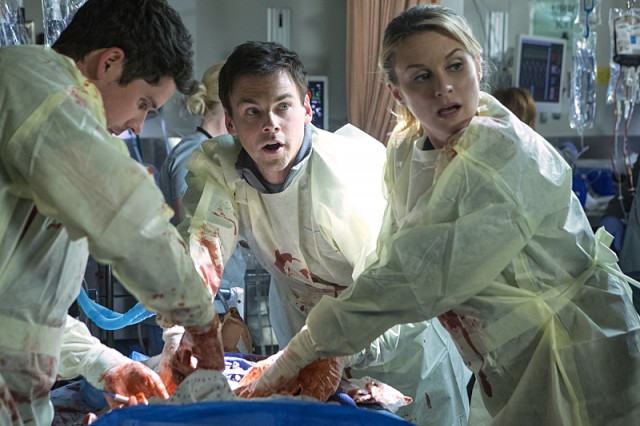 Last week Code Black ended in a bloody cliffhanger and this week's episode, called "Diagnosis of Exclusion" deals with the aftermath of that… Here's the CBS Press Release:
"Diagnosis of Exclusion" — The doctors are questioned following a violent incident inside the hospital that leaves two doctors gravely injured. Also, Neal and Christa make their relationship to the next level after officially disclosing their romantic relationship to HR, on CODE BLACK, on the CBS Television Network. Boris Kodjoe begins his recurring role as Dr. Will Campbell, a surgeon at Angels Memorial. Tommy Dewey, Jesse Bradford and Jeff Hephner return as Dr. Mike Leighton, Angus' older brother, Gordon Heshman, a patient, and Dr. Ed Harbert, the CEO of Angels Memorial.
Okay, who the heck is this Dr. Will Campbell? He's the attending surgeon that last week we learned surgical resident Heather Pinkley (Jillian Murray) was caught making out with.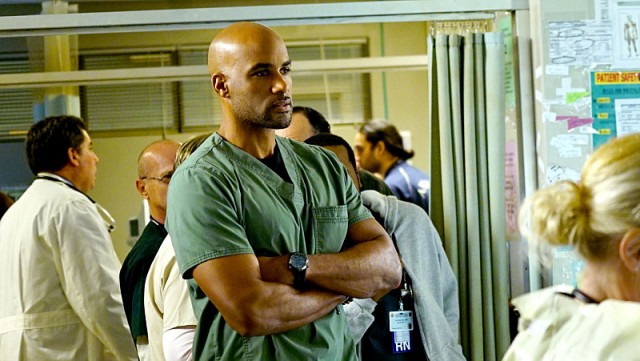 Hmmm…You know all that stuff last week about Heather supposedly not sleeping with anyone not an attending or above may be bogus. After all resident doctor Mario Savetti (Benjamin Hollingsworth) isn't an attending. Maybe Heather just can't resist good-looking men!
However, just because a guy is hot it doesn't mean they're nice. CBS did this "behind the scenes" video introducing Dr. Will Campbell, and he doesn't seem that likable at all.
https://www.youtube.com/watch?v=gy-AxeHUeaM
So, this Dr. Campell will be giving Neal a hard time. Â Now I really don't like him – but maybe he'll push Neal into doing more surgery. Â This could be a good thing, since then he wouldn't be Christa's direct supervisor….
Code Black "Diagnosis of Exclusion" Preview!

https://www.youtube.com/watch?v=cXmFJ7Wnlzc
What is going on here? Also, what about Christeal! They're going public? I thought they agreed to keep it quiet? Be sure to watch Code Black tonight at 10pm on CBS to find out what's up!
Here's one more sneak peek!
Yikes! Â He was a serious stalker! Â Worse, neither Malaya, nor Gina are in that room….