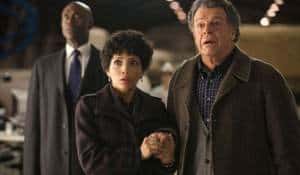 Fringe fans, you won't be watching Peter Bishop's comeback if you tune into FOX at 9/8c tonight. It's a possible Cardinals comeback you'll be seeing instead.
The St. Louis Cardinals won Game 6 of the World Series on Thursday night, leading to a 3-3 tie with the Texas Rangers in the 2011 World Series. While millions of baseball fans are undeniably happy (and millions undeniably angry), fans of FOX's Little Sci-Fi Show That Could are getting the short end of the stick.
Fringe, which was slated to return from a two-week hiatus, will be pre-empted to an unspecified later date. The episode, "Novation," will focus on the return of Peter Bishop from… well, nonexistence.
This pre-emption will undoubtedly have a drastic effect on ratings for the episode. Ratings for the final season premiere of Chuck and the series premiere of NBC's new show Grimm will also probably be really low. And while Chuck might bounce back with its second episode, it'll be much more difficult for Grimm to gain solid footing after starting off handicapped.
Fringe's fifth episode of the fourth season will air… Well, we'll let you know when.