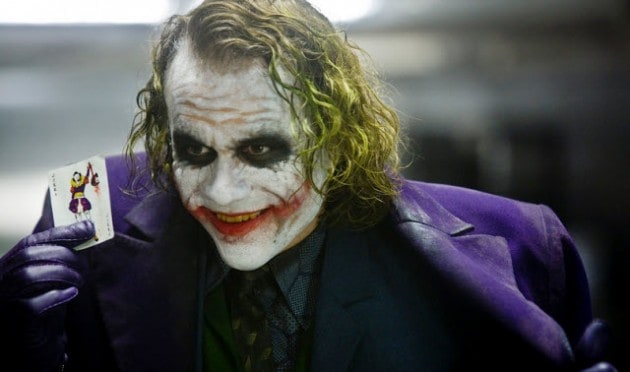 Ever since movies began, they would've been absolutely nothing without their heroes. And, you can't have heroes without villains. Many a villain has made a movie the hit that it was. From the bad guy in the Treasure of the Sierra Madre who said "Badges? We don't need no stinking badges!" to the numerous love-to-hate-them villains in all of the super-hero movies of today; villains have been at the center of many a great film. After all, what fun would a Batman movie be without The Riddler, the Joker, the Penguin, or even Mr. Freeze?
So, without further adieu, let's jump right on into our list of The Top 20 Villain Monologues in Superhero Movies and see what our fave villainous men and women had to say. We're starting with Batman movies because, over the years, they've had so many delicious villains to entertain us and now Bruce Wayne's alter ego, the Dark Knight, will soon be battling a new nemesis, namely Deathstroke with Ben Affleck at the helm as the film's director in addition to his duties of playing Batman himself.
And, did you know that during the years between 'Batman', 'Batman & Robin' and 'Batman Begins', there were a number of Caped Crusader films that never saw the light of day? In fact, they were never even produced, although some came close. Talented filmmakers like Andrew Kevin Walker, Frank Miller, and Darren Aronofsky tried unsuccessfully to get their Batman projects to fly but failed. Then, in 2003, Christopher Nolan succeeded in making the word "reboot" something that every Hollywood studio started considering and making an integral part of their overall business plan. With "Batman Begins" in 2005, The Dark Knight in 2008, and The Dark Knight Rises in 2012, Nolan definitely became the favorite director of Batman films ever, so we'll be interested to see if Affleck can really give him a run for his money.
1. BANE in "The Dark Knight Rises" (2012)
The amazing Bane monologues in this film are just way too many to go into but perhaps some of the best ones are when Bane destroys a CIA plane, grabbing Dr.Pavel on the way down just before ditching. Bane tells the good doctor to calm down because now isn't the time for fear since that will come later. Good stuff. Kudos, Tom Hardy, you've done it again! Every single one of your characters, from Mad Max to the dashing secret agent in "This Means War" with Reese Witherspoon and Chris Pine, has wowed us. Not sure if you're better at playing a good guy or a villain but let's just say that we love you as both.
2. THE JOKER in "The Dark Knight" (2008)
The Joker has always been Batman's biggest and most creative nemesis. And, Jack Nicholson's portrayal of the character set the bar pretty high for any jokers to follow with his iconic dance with the devil line. But, Heath Ledger won a posthumous Oscar for turning the character in "The Dark Knight "into the modern-day monster that we love to hate. In fact, he orchestrated the grizzly murder of Bruce Wayne's lady-love, Rachel, a horrific event that hit the Caped Crusader harder than any other since the night when his parents were ruthlessly gunned down in a dark alley. During the Joker's first scene in "The Dark Knight", he tells all the bad guys that when they do something well, they should never do it for free. When they scoff at him, he tells them to give him a call when they decide to take the matter more seriously. And, of course, in great Joker fashion, he makes sure that they soon find out just how true that statement is.
3. THE PENGUIN in "Batman Returns" (1992)
The Penguin was originally portrayed by the great Burgess Meredith back in the 60s on TV but is best remembered as being played by the very talented Danny DeVito in "Batman Returns". And, with his constant scheming and high-tech umbrellas, Batman seems to have met his match in this particular bird. One of his most iconic lines came when he told Catwoman in no uncertain terms that, since nobody would put him on a pedestal, he would be laying them on a slab.
4. MR. FREEZE in "Batman & Robin" (1997)
Arnold Schwarzenegger's character Mr. Freeze has spawned numerous funny videos since his performance was filled with pun after pun. As a serious bad guy in the Batman rogues' gallery, Mr. Freeze was just a misunderstood guy who went just a little bit crazy when his beloved wife became terminally ill. In response, he unleashed his freeze gun on the city of Gotham and, when he tells everybody that the Iceman cometh and to chill, he means it literally. And, his most iconic line would have to be that nobody was sending him to the cooler!
5. TWO-FACE in "The Dark Knight" (2008)
This character was first played by Tommy Lee Jones in "Batman Forever" and, as usual, Tommy Lee did an amazing job. But, more recently, Aaron Eckhart played Two-Face in The Dark Knight". In this version, he is Harvey Dent, the former Gotham DA. He was once a friend of Batman but turns into a twisted maniac after half of his face is mangled in an accident. During one of his most iconic monologues, he waxes poetic and tells us about the night being darkest right before dawn and then promises that the dawn is indeed forthcoming.
6. SCARECROW in "Batman Begins" (2005)
In "Batman Begins", Cillian Murphy puts a handsome face on this classic Batman movie villain and strikes fear into the hearts of both the Gotham City mob bosses and Batman. He's sufficiently creepy without even opening his mouth but especially so when he says that they cry and scream, much like you're doing now.
https://www.youtube.com/watch?v=CRnDvRkiRNA
7. RA'S AL GHUL in "Batman Begins" (2005)
Liam Neeson introduced the character of Ra's Al Ghul to Batman movie audiences in "Batman Begins". This guy has a number of interesting hobbies, including immortality, thanks to the Lazarus Pit. The Pit has the power of resurrecting people from the dead. He believes that large groups of people must die for the restoration of the natural order of things on Earth. When Bruce Wayne refuses to show that he is truly committed to justice with the execution of a criminal, Ra's Al Ghul tells him that he simply can't lead unless he is prepared to do whatever's is necessary for defeating evil.
8. RIDDLER in "Batman Forever" (1995)
Edward Nigma is a Batman character who loves riddles but that love has turned into something truly unhealthy for everybody around him. The part is skillfully played by the always funny Jim Carrey in "Batman Forever" and many fans were hoping that the colorfully humorous villain would be back in "The Dark Knight Rises" but Christopher Nolan had other ideas. Anyway, in "Batman Forever", the Riddler's most memorable line will always refer to Batman as a big black bat that nobody's afraid of when he recites his iconic line about riddling me this and riddling me that.
9. CATWOMAN in "Batman Returns" (1992)
Just to show that the Batman movies offer equal opportunities for evil female villains as well as the male variety, Catwoman appears on the scene and has us wondering if she's a friend or a foe. In "Batman Returns", the lovely Michelle Pfeiffer jumps into the famous catsuit to answer that question. Her most iconic monologue involved fish, of course, when she complains that she hasn't been fed all day. Poor kitty!
10. POISON IVY in "Batman & Robin" (1997)
Uma Thurman does a mightily seductive job of playing Poison Ivy in 1997's "Batman & Robin". In it, her blood is toxic as her scent entices men to do her bidding. With an obsession for plants and a penchant for militant environmentalism, she skillfully utilizes plant toxins for furthering her cause. With all of this to keep her busy, it's amazing that she still has time to come up with iconic lines like the one about how many people there are to kill but so little time.
Next Up- Iconic Lines From Villains in Superman Movies
11. LEX LUTHOR in "Superman"- (1978)
At 85-years old, Gene Hackman is often called the "Greatest Living Actor". He's also the actor who will never be forgotten for his many amazing roles, not the least of which is Lex Luthor in "Superman". With 79 movies, two Oscars, and not a single bad performance among them, Mr. Hackman is truly a legend. In this film. we loved his monologue related to the creativity [or lack of it] in some people when he refers to War and Peace as being just an adventure story to some, where others can succeed in unlocking all of the secrets of the universe just by reading a gum wrapper. Classic Hackman.
12. GENERAL ZOD in "Superman II" (1980)
General Zod is one of the more humorous Superman movie characters, only to be surpassed by Lex Luthor who gets a laugh with practically every line. General Zod is clueless and calls Earth "Planet Houston", as he declares to all that he always wins and that there isn't anybody on this planet who is capable of challenging him.
https://www.youtube.com/watch?v=7tk1l_HmQ3E
13. OBADIAH STANE in "Iron Man" (2008)
The great unforgettable actor, Jeff Bridges, plays this evil character in "Iron Man" and the part suits him to a "T", as in terribly villainous. His most iconic monologue involves the fact that it is truly ironic that Tony Stark is trying to get rid of all the evil weapons in our world although he has created the best weapon of all and that Stane is going to kill Tony with it. It turns out that Stane is definitely a major threat to Tony even though he starts out appearing to be his friend and mentor.
14. LOKI in "The Avengers" (2012)
This evil scoundrel is deftly played by Tom Hiddleston. He's so evil that, after turning against his own brother, he also attempted to conquer Earth. He's a Nordic god turned trickster who exudes charm, humor, and wit but is really just a nasty guy, all in all, who's known for telling everybody that they are really just made to be ruled and will always kneel in the end.
15. DR. OTTO OCTAVIUS in "Spider-Man 2" (2004)
In "Superman 2", Dr. Otto Octavius (Alfred Molina) was a mad scientist who dedicated his life to research and builds a fusion-powered reactor that is sustainable, which is funded by Oscorp and Peter Parker's friend, Harry Osborn (James Franco). Unfortunately, Dr. Octavius' invention takes over his mind, resulting in plenty of mayhem and, of course, the need for Spiderman to intervene and save the world. The crazy doc was well-known for bragging about having the sun's power in the palm of his hand.
16. THE RED SKULL in "Captain America: The First Avenger" (2011)
This character evolved in the Captain America films after being given the Super Soldier Serum prior to it being perfected and it turned his face into a really grotesque red skull. He became Captain America's arch-nemesis and numerous exciting battles ensued. The Red Skull enjoyed pointing out the fact that arrogance isn't a trait that is uniquely American, but that he had to say that Captain America did it better than anyone else although there were limits to what the superhero could do.
17. MAGNETO in "X-Men: Days of Future Past" – (2014)
Magneto (Ian McKellen) appeared in a number of X-Men movies and, in fact, his daughter pops up on the new hit TV show "The Gifted", exhibiting many of the same powers that her famous father possesses. Small world, right? During one of his onscreen rants in "X-Men: Days of Future Past", Magneto points out the fact that humanity has always feared what is different. And, in spite of the fact that he may have been a comic book villain, he has a very good point.
18. OZYMANDIAS in "Watchmen" (2009)
Ozymandias is a ruthless calculating mastermind who, of course, believes that the ends justify the means but tends to take it to the extreme. He's the epitome of really unsettling super-villains, as well as a narcissist with delusions of grandeur. In "Watchmen", he's known to be fond of saying that he was the smartest man in the world and that the only possible person that he could have had a kinship with was Alexander the Great.
19. ULTRON in "Avengers: Age of Ultron" (2015)
The fantastically talented actor, James Spader, who stars in the smash hit TV series "Blacklist" plays Ultron in the superhero film "Avengers: Age of Ultron". In the film, Tony Stark intends for Ultron to act as a global peacekeeping force. However, being an intelligent robot, this android makes his own decision that humanity is actually Earth's greatest threat, so he should simply eliminate everybody. And, old Ultron had some pretty profound things to say for a robot, like when he said that Tony Stark was asking for a savior, but settling for a slave. He also pointed out to everyone that their extinction was the one and only possible path to peace.
20. MYSTIQUE in "X-Men Days of Future Past" (2014)
Rebecca Romijn played the blue-skinned mutant, Mystique, in the original films, however, superstar Jennifer Lawrence has now taken over the job of playing the crafty shape-shifter who delights in playing both sides against each other, depending on what suits her at the time. She's a deadly adversary who's more than happy to knock down anybody who gets in her way. At times, she appears to be a little less evil, however, like when she delivers a pep talk to the X-Men, telling them to go about forgetting everything that they think they know, the lessons they learned in school, whatever their parents taught them. None of it matters because they're not kids or students anymore but X-Men!