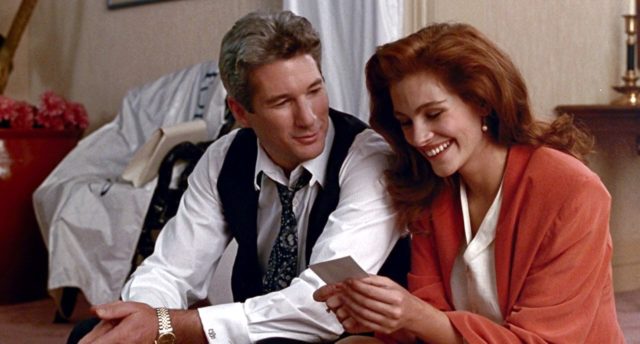 The appearance of the characters in a movie makes all the difference to a film. It impacts on the audience's opinion of them and influences whether or not they feel a connection. Their costume worn by an actor says a lot about their character, their role in the film, and the period in which the movie is set. The costumes are the responsibility of the costume and wardrobe department for a film and they must make decisions on every aspect of what a character wears. One part of the costume they must often consider is a wig. There are many reasons why a character may need to wear a wig. It is often to transform the appearance of an actor for a role, but it can also be important for the period of the movie or to create a comical or dramatic effect. There are many examples of bad wigs that are talked about in the media. Although people tend to talk more about the wigs that have made a statement for the wrong reason, there are plenty of wigs in the movies that are fantastic. Here are 20 of the best wigs from the movies.
20. Amadeus – Tom Hulce
While some wigs are fantastic because they look so natural, on other occasions, it is perfectly clear that the wearer is sporting a wig. That is the case in the 1984 period drama film 'Amadeus'. The storyline is set in the latter half of the 18th-century when gentlemen often wore wigs. The storyline is a fictionalized version of Wolfgang Amadeus Mozart's biography. Although most of the male characters, and many of the female ones, wore wigs in this movie, the one worn by Tom Hulce in the leading role is the most noteworthy. On occasions it is magnificent and on others, it is untidy as he becomes passionate while playing music. This all adds to the effect, however. This film is based on the book of the same name by Peter Schaffer with a screenplay written by the same writer. It is directed by Milos Forman and also stars F. Murray Abraham, Elizabeth Berridge, Simon Callow, Roy Dotrice, and Christine Ebersole.
19. The X-Files: Fight the Future – Gillian Anderson
Gillian Anderson played FBI Special Agent Dana Scully in both the 'X-Files' television series and the movie 'The X-Files: Fight the Future'. It may surprise you to learn that the red bob for which Anderson is famous is not her own hair and is, in fact, a wig. The wig was created by specialist wig maker to the stars Stacy Butterworth. 'The X-Files: Fight the Future' is a 1998 science fiction thriller movie that was directed by Rob Bowman and written by Chris Carter and Frank Spotnitz. Along with Anderson, the film also starred David Duchovny, Martin Landau, Blythe Danner, and Armin Mueller-Stahl.
18. X-Men: Days of Future Past – Hugh Jackman
Another wig designed and created by Stacey Butterworth is the one worn by Hugh Jackman while playing the role of Wolverine in 'X-Men: Days of Future Past'. While it may not be a look that the regular man wants to sport while walking down the street, the wig is fantastic for the role. This 2014 superhero film is based on characters from Marvel Comics. It was written by Simon Kinberg and directed by Brian Singer. The film is based on the comic book storyline of the same name by Chris Claremont and John Byrne. This movie also starred James McAvoy, Michael Fassbender, Jennifer Lawrence, Halle Berry, Anna Paquin, and Ellen Page. This film had a large budget of $200 million but grossed $747.9 million at the worldwide box office.
17. Mean Girls – Rachel McAdams
In this 2004 teen comedy film, Rachel McAdams plays the role of Regina George who is the original mean girl who turns good. The character has stunning long blond hair, but this is actually a wig. It looks totally natural and super glossy. Others who star in this movie are Lindsey Lohan, Lacey Chabert, Amanda Seyfried, and Lizzy Caplan. The storyline is based on a novel by Rosalind Wiseman called 'Queen Bees and Wannabes'. The screenplay is written by Tina Fey and the movie was directed by Mark Waters. 'Mean Girls' grossed $129 million at the box office.
16. Romeo + Juliet – Claire Danes
In real life, Claire Danes had short blond hair at the time this film was released in 1996. Therefore, she wore a wig for the role of Juliet. Unlike many wigs in the movies, this was very realistic. The long brown locks were also very feminine and attractive. Leonardo DiCaprio starred opposite Danes in the role of Romeo. The movie is based on the story of the same name by William Shakespeare and the screenplay was written by Baz Luhrmann and Craig Pearce. Baz Luhrmann also directed this movie. Others who starred in this film include Brian Dennehy, John Leguizamo, Pete Postlethwaite, and Paul Sorvino.
15. Skyfall – Javier Bardem
In 'Skyfall', Javier Bardem plays the role of Raoul Silva who is a former MI6 operative who has become a cyberterrorist. He wears a blond wig for the role that adds to the sinister character of Silva. This 2012 spy movie is the 23rd installment of the James Bond series of films. It stars Daniel Craig in the lead role and other cast members include Judi Dench, Ralph Fiennes, Naomie Harris, Ben Wishaw, and Albert Finney. It was directed by Sam Mendes and written by Neal Purvis, Robert Wade, and John Logan. The musical score was written by Thomas Newman. The film grossed $1.09 billion, making it the second highest grossing film of 2012.
14. Psycho – Vera Miles
Although Vera Miles was a very attractive actress with beautiful hair, wearing a wig for the 1960 movie 'Psycho' was a necessity. For her previous acting role, she had to shave her head and this was not a look that was fitting for her character in the horror movie. However, the wig she was given to wear was very natural looking and suited her perfectly. 'Psycho' is a film directed by Alfred Hitchcock and written by Joseph Stefano. It is based on the novel of the same name by Robert Bloch. It also starred Anthony Perkins, John Gavin, Martin Balsam, John McIntire, and Janet Leigh.
13. Breaking Dawn: Part 2 – Robert Pattinson
Although in all the other films in the 'Twilight 'series of films Robert Pattinson has his own hair, in 'Breaking Dawn: Part 2′ he wears a wig. This was because he had recently filmed a movie that required him to shave his head and the producers of 'Breaking Dawn: Part 2′ were not keen on this look for his role as Edward Cullen. They also wanted continuity from previous films. Unlike his co-star Taylor Lautner who was made to wear some hideous wigs for this series of films, Pattinson's wig was not even recognizable as a hairpiece. This movie was written by Melissa Rosenberg and was directed by Bill Condon. It also starred Kristen Stewart, Billy Burke, Peter Facinelli, and Elizabeth Reaser. It was a huge commercial success and grossed $829.7 million at the worldwide box office.
12. Salt – Angeline Jolie
In this 2010 action thriller, Angelina Jolie plays Evelyn Salt who is a woman accused of being a Russian sleeper agent. The film was originally written for a male protagonist and Tom Cruise was lined up for the movie. However, the film was adapted to suit a female lead and the screenplay was especially rewritten for Jolie by Brian Helgeland although Kurt Wimmer wrote the original script. Throughout the movie, Jolie wears several wigs, but the long, blond ponytail is probably the best. The movie was directed by Phillip Noyce and also starred Live Schreiber, Daniel Olbrychski, Chiwetel Ejiofor, and August Diehl.
11. Pretty Woman – Julia Roberts
In the 1990 romantic comedy film 'Pretty Woman', Julia Roberts' natural hair is auburn, long, and curly. However, when she is working the streets as a hooker, she wears a platinum blonde bob wig. One of the best scenes in the movie is when she spends her first night with Richard Gere. He is not interested in hiring her for sex and just likes her company. They have fun together watching old movies in his hotel room. When he goes to get a shower, Roberts gets ready for bed. When Gere returns, she is fast asleep with her natural curls across the pillow and her wig hung over a chair. This successful film was written by J.F. Lawton and directed by Garry Marshall. This movie was one of the biggest hits of the 1990s and grossed $463.4 million at the worldwide box office.
10. Chicago – Catherine Zeta Jones
In this 2002 musical crime comedy film, Catherine Zeta-Jones plays vaudevillian Velma Kelly and has a glossy black bob wig. As the film is set in the 1920s, this is the perfect style for the period. This movie was written by Bill Condon and is based on the 1927 silent movie of the same name. It was directed by Rob Marshall and also stars Renee Zellweger, Richard Gere, Queen Latifah, and John C. Reilly. It made $306.8 million from a budget of $45 million. It is about a singer, Roxie Hart, who sees Velma Kelly perform and wants to become famous herself so she has an affair with a man who claims to know the manager. When her husband is caught in bed with her sister, Velma Kelly is arrested. When Roxie finds out her lover has no connections, she also kills out of revenge.
https://www.youtube.com/watch?v=SN6Dna_cMC0
9. Ghost – Whoopi Goldberg
When people think of the film 'Ghost' it is often the romantic pottery scene with Patrick Swayze and Demi Moore that springs to mind. However, there are many memorable scenes featuring Whoopi Goldberg in her role as Oda Mae Brown. One of the best scenes is where she dons a long, straight wig and a smart, bright pink suit, paired with some ridiculous heels, and heads to the bank. This 1990 romantic fantasy thriller was written by Bruce Joel Rubin and directed by Jerry Zucker. This movie was a critical and commercial success as it grossed $505.7 million from a budget of $22 million. It was also nominated for five Academy Awards, of which it won two. Goldberg won a Golden Globe, a BAFTA, and a Saturn Award for her performance in this film.
8. Kick-Ass – Chloe Grace
Chloe Grace Moretz certainly does kick-ass when she plays the role of Hit-Girl, the alter ego of Mindy Macready. Her acting and physical talents make her stand out against the rest of the cast members in this movie. When she becomes Hit-Girl, she dons a super cute purple wig which completely transforms her look. Although she still looks like the child that she is, the cut gives her a tougher appearance and the color has all the fun appeal of a comic book character. 'Kick-Ass' is a 2010 superhero black comedy film that also stars Aaron Johnson, Christopher Mintz-Plasse, Mark Strong, and Nicholas Cage. This movie was directed by Matthew Vaughn who also co-wrote the film with Mane Goldman.
7. Hairspray – John Travolta
Who would have believed that John Travolta would look good as a woman? Yet, when he dons a brunette wig and puts on a dress, he looks absolutely fabulous. In this 2007 musical romantic comedy, John Travolta plays Edna Turnblad. She is the mother of the lead character in the movie, Tracy Edna Turnblad, who is played by Nikki Blonsky. The movie also starred Michelle Pfeiffer, Christopher Walken, Amanda Bynes, and Queen Latifah. 'Hairspray' was written by Leslie Dixon and directed by Adam Shankman. It features music by Marc Shaiman. This film was a commercial success as it grossed $202.5 million from a budget of $75 million.
6. Ultraviolet – Milla Jovovich
Milla Jovovich, who plays the titular role in 'Ultraviolet', has constantly changing hair in this movie. It switches from brunette, to pink, to purple at different points in the film. No matter what look she is sporting, she looks fantastic throughout. The wigs are also perfectly suited for this 2006 dystopian science fiction action film as they definitely have a futuristic look about them. Milla Jovovich also narrates this film which was written and directed by Kurt Wimmer. The film also stars Cameron Bright and Nick Chinlund.
5. V for Vendetta – Hugo Weaving
'V for Vendetta' is a dystopian political thriller film that was released in 2005. The role of 'V' is played by Hugo Weaving. The face of this character is not seen throughout the movie as he wears a disguise from start to finish. His face is covered by a mask and he wears a long black wig that is intended to replicate the appearance of Guido Fawkes. Although it is not the prettiest of wigs, it is perfect for the characterization of 'V'. The movie also stars Natalie Portman, Stephen Rea, Stephen Fry, and John Hurt. It was directed by James McTeigue and written by the Wachowski Brothers. In one of the final scenes of the movie, thousands of Britons who support the political views of 'V' gather in London wearing replica masks and wigs. The budget for this movie was $54 million and it grossed $132.5 million at the box office.
4. The Nutty Professor – Eddie Murphy
There is not just one wig in this film, there is a whole collection. So, take your pick! Whether or not these wigs are great or just plain comical is a matter for debate, but credit must be given to the wardrobe department on this movie not only for providing such a wide selection of wigs, but also for crating so many different characters for Eddie Murphy. In this slapstick comedy science fiction film that is a remake of the 1963 film, Eddie Murphy is Professor Sherman Klump/ Buddy Love. He also plays Papa Cletus Klump, Mama Anna Klump, Granny Ida Jenson, Ernie Klump, sr., and Lance Perkins. For each of these roles, he wears a different wig. The movie also stars Jada Pinkett, James Coburn, Larry Miller, and Dave Chappelle. The film was directed by Tom Shadyac who also co-wrote the film with David Sheffield, Barry W. Blaustein, and Steve Oedekerk. From a budget of $54 million, this movie grossed $274 million at the worldwide box office.
3. Elvira: Mistress of the Dark – Cassandra Peterson
Cassandra Peterson stars as Elvira in 'Elvira: Mistress of the Dark' and also plays the role of Elvira's Aunt Morgana. The movie is based on the character Elvira that Peterson played as the host of the weekly horror movie presentation 'Elvira's Movie Macabre' that was shown on KHJ-TV. Elvira is famous for her huge, black beehive wig which is a Gothic masterpiece of wig creation. The 1988 comedy horror movie was directed by James Signorelli and was co-written by Casandra Peterson, John Paragon, and Sam Egan. Others who starred in the movie included W. Morgan Sheppard, Daniel Greene, Jeff Conaway, Susan Kellerman, and Edie McClurg. Although this was not a commercially successful movie, credit must still be given for that fabulous wig.
2. Jackie Brown – Samuel L. Jackson
Samuel L. Jackson is famous for the variety of hairstyles he sports in movies. Some of these have involved his own hair and, on other occasions, he has worn a wig or a hairpiece. His favorite wig of all time was the one he wore for 'Jackie Brown'. The long wig meant he could wear a variety of styles throughout the movie. He could wear it down, plait it or tie it in a ponytail. This 1997 crime thriller was written and directed by Quentin Tarantino. It is an adaptation of the 1992 novel 'Rum Punch' by Elmore Leonard. Jackson plays Ordell Robbie in the movie and others who star in 'Jackie Brown' include Pam Grier in the title role, Robert Forster, Bridget Fonda, Michael Keaton, Robert De Niro, and Chris Tucker.
1. Elizabeth: The Golden Age – Cate Blanchett
In 'Elizabeth: The Golden Age', Cate Blanchett plays the role of Queen Elizabeth I of England. What is so amazing about this wig is how it completely transforms the appearance of the actress wearing it. Another reason it tops the list is its historical accuracy. It is well-known that Queen Elizabeth I was a red head. It is also well-known that she wore wigs. The wig worn in the movie perfectly depicts the image we have of Queen Elizabeth I. This 2007 period film was directed by Shekhar Kapur and written by William Nicholson and Michael Hirst. Along with Blanchett, the film starred Geoffrey Rush, Clove Owen, Rhys Ifans, Eddie Redmayne, and Abbie Cornish. It was made on a budget of $55 million and grossed $74.2 million at the worldwide box office.