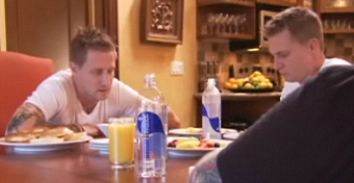 I'm getting hungry just thinking about it. The Top Chef finale ends tonight with a couple of brothers and a southern boy squaring off in the cooking arena. It's a battle of simple taste vs culinary innovation. On one side, the Voltaggio brothers, Michael and Bryan – straight laced and pensive, cooking like they were trained in God's kitchen. You wouldn't be out of line to think that the contest belongs to one of these two virtuosos, BUT on the other side of the playing field a competitor that is truly a study in contrast. Kevin, whose southern sensibilities and bad ass biker look makes him seem out of place in this competition – but his simple approach has often proven that cool heads can prevail. The question is, who is feeling up to the challenge.
As you can see in this clip from The Top Chef Finale, Kevin is all business and knows that he has a serious challenge on his hands. The question is, will he cast himself against type and go toe to toe with the sweet science of the Voltaggios? The Voltaggios themselves seem to be their level headed best, but Michael clearly feels Kevin is his competition this evening.
Tune in tonight on Bravo to see who takes home the prize.