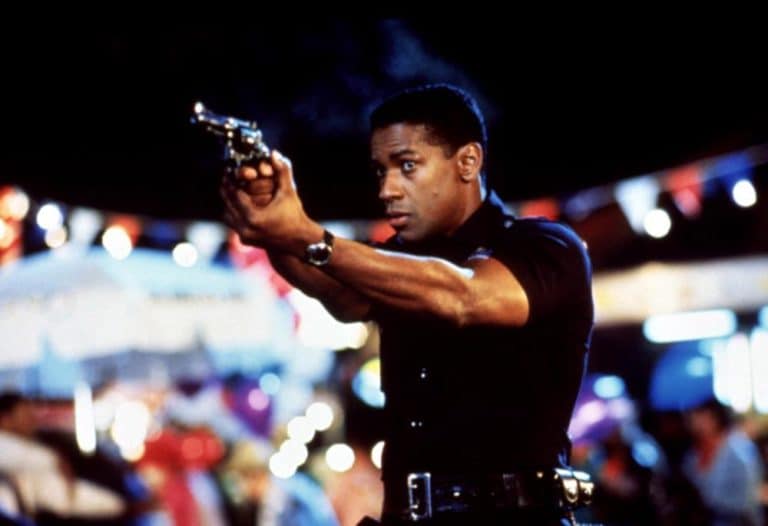 I feel like I might have done a yelling scene with Denzel Washington but perhaps I'm thinking of another article. In any case there are plenty to choose from and those below are some of the best. His yelling can be downright manic at times or simply the raising of his voice that sounds as though he's trying to talk over someone or something in order to be heard. Unless gets to his more manic side however even his yelling tends to be calm, neutral, and even-toned, if you can call that a yell at that point. In any case, Denzel Washington can produce a wide range of yells from calm and even to scary and unbalanced.
5. Ricochet
When he manages to shoot and injure a notorious hitman rookie cop Nicholas Styles makes a dangerous enemy that sets out to ruin him when he escapes from prison. Instead of killing him outright, the hitman seeks to ruin him by destroying his reputation and his life, breaking him down in more than one way so as to get his revenge. Luckily Styles knows people that he can count on to get his life back.
4. Man On Fire
Creasy is not a nice man, but when it comes to Pita Ramos he was shown that it was okay to live and smile again. When she gets kidnapped the dangerous person that he used to be surfaces and is out to remind the kidnappers just how bad a job can really go, and how dangerous it is to upset a man that has nothing to lose by doing whatever it takes to get the answers he wants.
3. Training Day
Alonzo is perhaps one of the worst human beings that Denzel has ever played since he's got almost no redeeming qualities. All throughout the movie the viewer tends to want to believe that he might eventually turn into a good guy that just does bad things. But that's not the case since Alonzo knows full well what he's doing and won't be a bit sorry about it.
2. Malcolm X
Malcolm X was a very passionate man and had plenty to say about the way that black people were treated in America. To some he was an icon to be followed and looked up to, but to others he was a problem to be dealt with. No matter which side of the line a person stood on he was without a doubt someone that was known to stir the hearts and minds of a great many people.
1. Inside Man
Detective Frazier is that kind of cop you want to like but know that if you cross he's going to see right through you. He's not shy about saying what he wants to say but he does try to be courteous at least. When dealing with the 'bank robbers' he's even polite and takes their every word into consideration. But it's very obvious that he's not buying into the whole scheme they seem to be running.
Denzel is one of the few that has a big range of yells at his disposal.