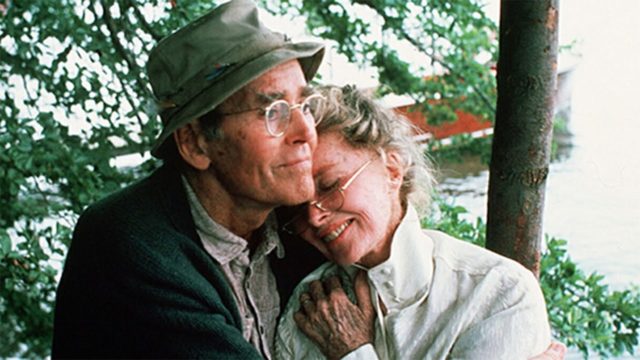 Onscreen older couples can be kind of funny, quirky, and sometimes just downright nasty. For the purpose of this list however I've decided to focus on those that are anywhere from quirky to outright funny. Old age in films is something that can swing one way or another depending on the nature of the film. One thing that is certain is that they are almost always the pillars of wisdom that you hope to see in any film. In real life elderly couples are not always the nicest folk but the chances of meeting a pair that are not that accommodating versus meeting those that are rather nice is kind of slim.
In the movies, older couples tend to be a lot calmer and more refined in their ways.
5. Ethel and Norman-On Golden Pond
Ethel is a neat old lady that's young at heart and tends to put up with a lot from Norman, who's getting senile and even a bit forgetful in his old age. His brief obsession with death has her concerned but doesn't become anything serious until near the end of the movie when he collapses trying to pack their things so that they can leave for home.
4. Ben and Maureen-Cocoon
Ben and Maureen are the kindly old grandparents that absolutely love their daughter and grandson but are realizing that as the years go by they're starting to get a little slower, ache a little more, and are beginning to get a feeling of the clock winding down. Once they get a dose of the energy that seems to come from the nearby swimming pool though everything begins to change.
3. Frank and Faye-Batteries Not Included
Like their neighbors Frank and Faye are doing all they can in order to keep their tenement from being bought out and razed to the ground. They love their home and don't want to move but have no chance to save it until a few unexpected visitors from outer space  find a way to help them out while at the same time helping themselves.
2. Engywook and Urgl-Neverending Story
I believe these two are gnomes of some sort but the gist is that one is a healer while the other is a scholar, and despite being a couple they've learned how to get on each other's last nerve a great deal of the time. And yet somehow they stay together, probably because there's no one else around that they could be with. Whatever the case, they're a lot of fun to watch.
1. Carl and Ellie-Up
This is the saddest couple of the bunch since we get to see them grow and mature together, trying hard to make a life and going through each struggle with one another no matter how hard it gets. For all that Ellie and Carl are one of the happiest couples to ever grow old together. The only tragic part, apart from Ellie being unable to have children, is watching Ellie collapse only moments before Carl was about to unveil a trip they'd been planning for years. This couple really pulls at the heartstrings.
When you look at elderly couples in film or in real life you get a sense of what true happiness must be like.
Save