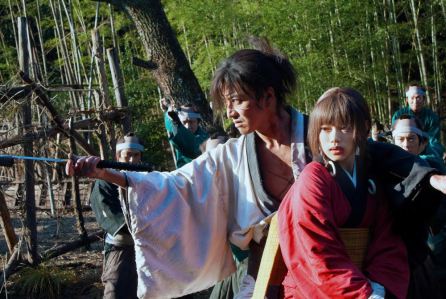 Genki Jason is a passionate blogger about Japanese culture, art, films and film events. His blog, Genkinahito, has emerged as the go-to place for most anything you might want to learn about Japanese movies. While recently writing about Japan Cuts 2017, the Festival of New Japanese Film which will be held in New York City this coming July 13 through the 23rd, he mentioned the tendency of the film industry in Japan to repeat the same kind of stories again and again. Apparently, Japanese financiers tend to adapt anime and manga to the big screen, and these are certainly popular with not only Japanese viewers, but many fans around the world.
Japan Cuts is one of the best events outside of Europe to see the newest contemporary films of all types. Big-budget movies, shorts, indies, classics restored and documentaries are programmed; and have been for 11 years now. This year's event is focused on the newest trends and interests in the multi-faceted Japanese culture. Films about WWII and nuclear anxiety, LGBTQ issues, by female and male directors, and international collaboration all a part of the Japan Society New York event. The best qualities of these art films are slowly appearing in popular movies. Japanese viewers are fascinated with tradition, yet compelled to assimilate the best of what is new for the future.
Keeping in mind the Japanese devotion to films about feudal Japan, adaptations from Manga or Anime, stories about coming of age and the trauma surrounding natural disasters and science fiction, the films listed here are popular favorites. These made this list due to several factors, such as box office gross, IMDb ratings, or Netflix and Amazon votes and viewership. They are representative of what's huge in Japanese culture.
Blade of the Immortal
https://www.youtube.com/watch?v=kL1j168B7d4
This live action adaptation of the Manga series Mugen no Junin was one of the most anticipated movies for 2017 long before it was released in Japan. It is the result of a first-time collaboration between directors Takashi Miike and Takuya Kimura. It also features a cast of stars including Erika Toda, Hana Sugisaki, Hayato Ichihara and Sota Fukushi. The movie is epic Samurai, with the main characters fighting against the renegade Itto-ryu, a sword school with questionable morals. The setting is feudal, with quests and explorations of death, forgiveness, immortality, redemption and revenge. The film debuted at Cannes; playing out of competition.
ReLIFE
Another a live adaptation of a popular Manga series, ReLIFE is the story of Arata Kaizaki who becomes part of a research program which gives hi medicine which makes him appear younger than his age. At 27, he must go back to school for a year. While there, he falls in love with a high school girl named Chizuru Hishiro. The film is a comedy filled with the humorous aspects of friendship, romance, life in school and science fiction.
Directed by Takeshi Furusawa, the cast includes Nakagawa Taishi, Chiba Yudai, TAira Yuna, Ikeda Elaize and Takasugi Mahiro.
Closest Love to Heaven
This film was released in Japan on February 25, 2017. Directed by Taisuke Kawamura, it's the story of the friendship and love which develop between Yuiji Kira and Ninon Okamura, who are neighbors. They attend the same school, but have not spoken yet. Ninon's parents tell her that Yuji is dying, and will only live one year. Yuiji eventually shares his fears about being alone when he dies. Ninon promises that she will be together with him until the time comes when he dies.
Closest Love to Heaven is based on the Rin Mikimoto manga series published in the magazine Bessatsu Friend. Mikimoto's series is called "Kyo no Kira kun", and was published between 2011 and 2014.
Fairy Tail: The Movie- Dragon Cry
https://www.youtube.com/watch?v=Vrb3TiUmNy4
This animated action and adventure story is based on the manga of Hiro Mashima and directed by Tatsuma Minamikawa. The story takes place in the Kingdom of Fiore and the evil Kingdom of Stella. Natsu Dragneel travels to the island kingdom, along with friends, to save the world. They encounter the darkest secrets and enemies which engage them in fights.
The film opened on May 17, 2017. It is a film created to close the series of anime adventures about the Fairy Tale guild and the mages. The series is a beloved classic in Japan, filled with magic and danger. When the film first aired in Japan, it sold out in 38 of the 101 theaters which aired it.
Your Name
Your Name was released in the United State on April 7, 2017. It literally changed culture in Japan when it was released late in 2016, and US fans of anime could barely wait for it to arrive. The film brought in more than $330 million. Director Makoto Shinkai has been compared to the legendary Hayao Miyazaki, co-founder of Studio Ghibli and considered the greatest anime filmmaker of all time. Your Name is second only to Miyazaki's classic Spirited Away in terms of box office gross, and that's throughout the history of films in Japan.
Your Name is a coming of age story about two teenagers who switch bodies while they are dreaming. One lives in the countryside and the other lives in Tokyo. Stories about adolescents are common in Japan, but this one includes themes related to the trauma and continuing discomfort with earthquakes and tsunami after the disaster in 2011. The film is visually dazzling, and has youthful hope for the future. As a result, Japanese are singing its songs and visiting its filming locations. Writing about the film in The Atlantic, Patrick St. Michel notes that the film has so deeply touched Japanese viewers that it may become the film which culturally defines this current decade.