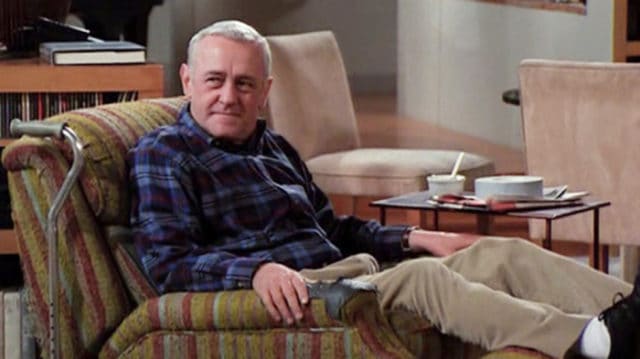 Hollywood has lost another famous name in John Mahoney recently, as the 77-year old actor passed away after a battle with throat cancer a few months ago. It's interesting to note that as American as the Frasier actor sounds, Mahoney was born in England and didn't become a US citizen until many years later as a young man. He did quite a bit before taking to the stage and eventually getting noticed as a serious actor. The one role we'll always know him for though was Martin Crane, the blue-collar worker and father of Frasier and Niles Crane.
How a blue-collar worker could produce two sons like Niles and Frasier is still something of a mystery.
5. Lilith returns
If you don't remember Lilith then you never watched Cheers. She was Frasier's ice-cold wife that could possibly tempt the devil into turning back around if he ever came a-calling. Eddie normally didn't listen to anyone right away but he just about ran from her. In fact Martin even admits that he'd already taken a step in the opposite direction before realizing that she wasn't talking to him.
4. Nile's twin
You would think that one Niles Crane would be enough, but then Daphne goes out and finds another man that's just like him, reaffirming that she does in fact have a type that she goes after. It would be flat out eerie though to see an almost exact duplicate of a man that's so uptight and prim and proper that simply being around him would be intolerable after a minute or more.
3. Peace and quiet
Life around Frasier was never really fun one hundred percent of the time since if anything in his well-manicured world wasn't going well then everyone got to hear about it. That means that if he didn't get enough sleep he would essentially become just like everyone else, cranky, bearish, and capable snapping at anyone. Of course there are just some people you don't snap at without suffering some kind of consequence.
2. Martin's art
No parent wants to admit that they have a favorite child. It's just not something you do since you're supposed to love all of your kids, if you have more than one. But it would appear that Martin did in fact favor Frasier over Niles quite often since the act of Niles politely declining Martin's gift was nowhere near as hard for him as it was when Frasier declined his own gift.
1. The chess game
Intellectuals are so much fun to beat when it comes to games. They simply can't understand how a system that works in their head could possibly be beaten by someone who they, on some level, consider to be inferior. What a lot of smart people don't seem to realize is that intelligence is great, but instincts and the wisdom to see the board in a different way is how us 'mortals' tend to get by. Not counting on mastery of something and going with the flow does tend to work.
Of course his father could have taught him how to play too. Rest in peace Mr. Mahoney, you'll be missed.