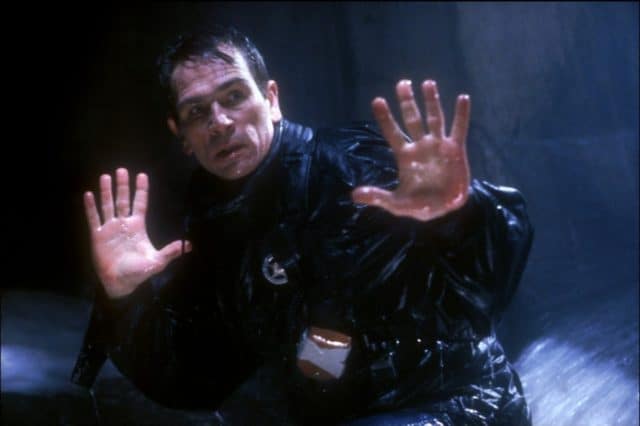 Tommy Lee Jones can yell with the best of them but his voice really seems to rise while the rest of his face doesn't seem to react as much. That's funny, isn't it? His eyes and everything else remain in the same neutral state or whatever emotion he just plastered on his face but it's not often that his yelling is completely in sync with his facial expression. That might sound odd but if you watch him in any movie it's true. If he's tense and looks like it then his yell will still be more savage than he appears to be. If he's cautious and worried his yell might still sound bored or irritated. It's kind of a disconnect between his voice and his facial expressions that he can do at will and that's really kind of impressive to be honest.
Just watch the clips and you should be able to see it.
5. The Fugitive
Tommy Lee Jones is definitely good at playing authority figures. In this film he's after a wrongly convicted man that is proving to be a lot more resourceful than anyone would have figured. The thing about it is that despite his protests and claims to be innocent the US marshals on his case really don't care about his claims, they just want to do their job and be done with it.
4. The Hunted
If you're going to train killers then there has to be an acceptance that you might train one or two that could fly off the rails at times. We tend to trust those that handle such individuals to know what to do with them but if the person that trained them has to be brought in then something has gone seriously wrong. At that point you have to wonder if the trainer will be enough to bring the person back in.
3. Men In Black
https://www.youtube.com/watch?v=tj2sSaNcWUA
There aren't a lot of guys that could face down a giant cockroach the size of a truck and demand to be eaten. Obviously K had a plan in mind but it involved taking a chance that the bug wouldn't just chew him up a few times for good measure before swallowing him whole. That was a pretty big gamble, but at least it paid off in the end.
2. Captain America: The First Avenger
For a grizzled old guy that didn't want Steve Rogers on his base to begin with he still didn't accept him all that much once he was turned into a super soldier. Once he figured out just what Rogers could do however he was still just as crusty, but at least he took advantage of a situation that would allow the Allies to get a leg up in the war. His presence in this movie was heavily overshadowed, but at least it was by design.
1. Small Soldiers
The commandos were just brutal in this movie, and worse than that, they could have been a lot worse had this not been a kids movie. Just think of an army of toys that could operate modern weapons and rig devices that would never be suspected of being dangerous until they were used.
Did you see how his face doesn't change that much in accordance to his yell?