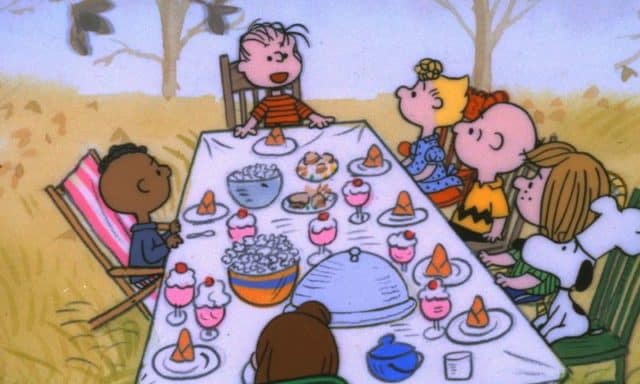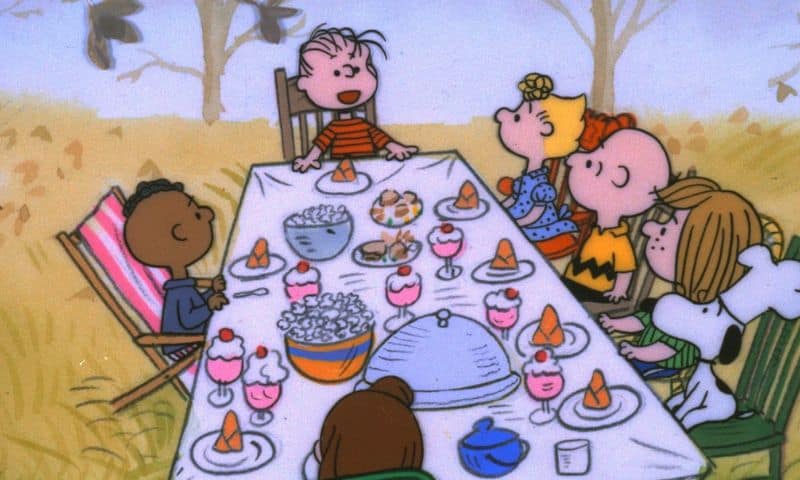 We all know that time on Thanksgiving Day. It's that unending stretch of time waiting for the turkey to be ready for dinner. It begins at different times in each home. Sometimes it starts during the Macy's Thanksgiving Parade. It might start during the parades on TV aired from around the country. It might even start when the football games do. Whoever is cooking will be blissfully happy that the turkey is finally in the oven, and acutely aware that everyone will soon be hungry. It doesn't seem to matter if there are plenty of foods available for snacking. Somehow, the aroma of roasting turkey eventually takes over.
Of course, there are always people who really don't care for parades or football. They've learned long ago to not announce it. Strategic hosts have figured this out already, and will prepare alternate viewing devices. So, in recognition of the turkey watchers and waiters, here are five great movies to watch on turkey day.
1. A Charlie Brown Thanksgiving 
This year, this well-loved 1973 classic will air twice. First, on Wednesday, November 22, 2017 on ABC.com. The full 30-minute movie will air for free online. Second, it will be on the ABC app on Thanksgiving Day. It has been available as a DVD for many years, too. It's paired with another Charlie Brown favorite, "This is America, Charlie Brown: The Mayflower Voyagers". Both animated shorts will celebrate the beginning of the traditional holiday season. Charlie Brown, Lucy, Linus, Sally, Peppermint Patty, Marcie, and Franklin are all there. Snoopy and Woodstock take over the kitchen, but it looks like the gang won't enjoy a traditional meal at all. This TV special won an Emmy award in 1974; and it is aired every November on the ABC network during primetime.
https://www.youtube.com/watch?v=LasYsSEsmWE
2. Free Birds
We love this animated tale. It features two turkeys who decide that it's time to free turkeys from Thanksgiving menus forever. Reggie has just been become the Pardoned Turkey of the year. He's warned his fellow turkeys for years that it's only a matter of time before each will have their turn. His life is turned upside down when he meets Jake, who thinks that the pair of turkeys should travel back in time to change Thanksgiving history and end the annual turkey doom. Their journey back in time plops them in the middle of Plymouth colony in 1621. They end up in more trouble than they could have imagined. It's a rollicking, think outside the box Thanksgiving tale. It's rude and funny, with plenty of action, and talking turkeys, too.
https://www.youtube.com/watch?v=gxslnpqFwOs
3. The Thanksgiving Promise
This made-for-TV movie was first telecast in 1986. The drama starring Beau, Jordan and Lloyd Bridges, Millie Perkins, Ed Lauter, Jason Bateman and Anne Haney tells the story of a Canadian goose who is destined to become Thanksgiving dinner. Saving the goose from its fate stirs the entire community. It's an old family favorite with great scenes of Canadian geese in the natural habitat. The film also deals with themes of responsibility and caring for nature. It's available in its entirety online.
https://www.youtube.com/watch?v=IeJP23YsFsg
4. Grumpy Old Men
Jack Lemmon and Walter Matthau play neighbors John and Max who have been fighting over nothing for 50 years. They live alone in a town in Minnesota. Just before Thanksgiving, a new neighbor, Ariel, moves in across the street. She's played by Ann-Margaret. The two men engage in a stepped-up rivalry because both are attracted to her. This Thanksgiving time favorite comes with some violence, mild profanity, and drinking. It's PG-13 rating is for its sexual references. Put Lemmon, Matthau, Ann-Margaret and Burgess Meredith together and you have comedy royalty. It's fresh and funny…perhaps one of the funniest films ever.
https://www.youtube.com/watch?v=2A-SOVQvPyg
5. Planes, Trains, and Automobiles
This absolute hoot of a comedy features Neal Page and Del Griffith, played by Steven Martin and John Candy. Page is just trying to get home for Thanksgiving, but his flight is cancelled. Page unwittingly pairs up with Griffith. The two have nothing in common, and that's funny. They struggle to get home using alternate travel arrangements. Their constant misfortunes are the stuff of hilarious moments. It has moments of gross, wacky, and sentimental fun, which has earned it top billing as a holiday classic.
https://www.youtube.com/watch?v=VWGqGHMO294