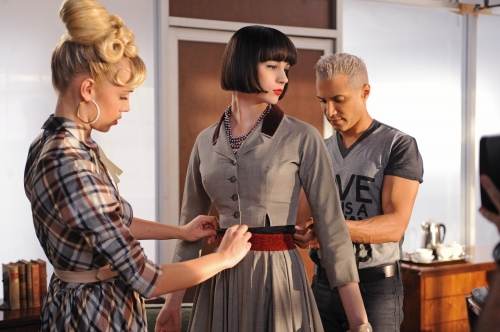 Don't look now, but Top Model has grown up on us. Yes, after 15 previous cycles, it looks like our little modeling show that could finally can. Cycle 16 of Top Model has shown some serious positive growth in its first few episodes, so much so that I'm actually excited to see where the show goes from here (and not in an ironic way!). But how has it improved so far, you say?
First off, the 'name'factor has increased exponentially, which is appropriate considering this is the show's second straight 'high fashion'season. Just last episode there were clothes from Carolina Herrera, Oscar de la Renta, John Galliano, and even some vintage Chanel! And we're on episode 3! I'm not a huge fashion follower (I do love Sex and the City, though), but I can appreciate some good couture and the show has been serving some serious couture so far this season. If they're already in such gorgeous clothes, just imagine how decadent the runway show at the end of the season will be.
Going along with the better 'name'has to be the better photo shoots. Don't get me wrong, I've enjoyed many a Top Model shoot in my day just for the sheer curiosity of 'how in the heck are they going to do that?'but it's nice to see more realistic portrayals of the type of shoots the girls will have to face in their modeling careers. Some may think that the backstage shoot or the bee beauty shoot are a touch too simple, but they're photos I could easily see in a fashion magazine and I like that they're getting more real life training than past seasons.
The lack of house drama has been another positive this season. Yes, there was the ridiculous argument about raw chicken, but that was so short that it didn't really phase me. To put it simply, I don't care about who ate the granola bars (I still think it was Kim) or who won't go to bed until late; I get that seeing it helps us see the house dynamics and understand what these girls are going through, but I would rather just see either funny stuff or fights related to the actual modeling on the show. Plus the show has cut a lot of other elements before when fighting was a more prominent part of the show, so maybe the lack of drama could give more time to seeing these girls develop into something.
Miss J is back, guys! After being bumped off the panel (shameful!), Miss J was kind of a non-entity for a while, but we've already had a runway challenge and it's still quite early. I'm sincerely hoping that J is brought back a couple more times this season in a more straightforward manner (I miss the shows when he would just put the girls in pretty clothes and teach '˜em how to walk without it having to be a spectacle/challenge), mostly because last cycle didn't have a runway walk that I was that keen on. J is wonderfully talented and my favorite personality on the show, so I'm cautiously optimistic that he'll be back.
The slightly tweaked order of operations works for me, as well. In past cycles, you knew the makeovers would be episode 2, the commercial would be around the top 6-7, go sees would be the first episode after they got to their international destination, etc. This cycle, makeovers were shifted back an episode and the commercial has been shifted up a few episodes. It may not seem like much, but stuff like this keeps the show fresh because you don't know exactly what to expect and when to expect it. I hope the show keeps at this tweaking of their format because it's working for me.
Top Model airs its fourth episode tonight on the CW (8:00/7:00 central) and this cycle has really renewed my love for it after mostly watching out of duty for the past few cycles. If you think Top Model is silly or lost its way after its early awesomeness, I challenge you to watch tonight (or the first three episodes) to see what you think. It's still a little kooky and occasionally bizarre, but there's some seriously talented girls this time around and they may actually be utilized well enough to make something of themselves.
They may actually end up…
Wait for it…
On top.