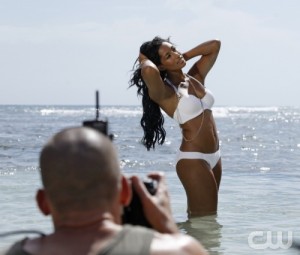 Here we are, America and people who decide to read my recaps of your Top Model competition. The final four – the (supposed) best of the best gathering for one final showdown to determine who makes it into the finale next week. Cycle 19 has found America's Next Top Model struggling to implement the changes that it made during its last hiatus and figure out the competition that it wants to be entering its second decade of existence. It's had moments that have made me optimistic about the future of the show, moments where everything coalesces and the show is the same lovable, goofy excuse for a competition that it has always been, but there are other moments that show me that Top Model has a long way to go before figuring it out.
A Horse is a Horse – Of Course, Of Course
The final pre-finale challenge takes the girls to the Equestrian Center where they find Rob and Yendi Phillips, first runner-up at the 2010 Miss Universe pageant and representative from the Jamaica Tourism Board. Yendi explains that the challenge this week will be a commercial advertising the wonders of Jamaica; they'll be given 2 takes to package factual information about the country with a personal twist to make the commercial their own. Additionally, they'll be writing their own script, which will feature 15 seconds of dialogue that will be said while riding a horse in the ocean. The winner of the challenge takes home the $10,000 in scholarship money, as well as a worldwide campaign through the Board.
Up first is Laura, whose nerves have thrown her noticeably off course the last few weeks of the competition. Her comfort with horses may give her a leg up on the other three girls, but that advantage is negated by the fact that she doesn't sound comfortable speaking to the camera – you can hear the tremor in her voice, but Rob and Yendi both like that what she said is exactly what they're looking for. Leila has to deal with an obviously spooked horse that unnerves her more than a little bit and makes her first take a throwaway; the second take is an improvement and finds her fairly comfortable in front of the camera, though her script might not be the strongest. Nastasia completely blanks on her script during her first take and has to improve to fill in the dead air – the content isn't as specific to Jamaica, though, which knocks her out of the running almost immediately.
It's Kiara that ends up winning the challenge and getting the ad campaign, thanks to a second take that vastly improved on her first. Admittedly, I didn't think that she could pull off a take after watching her nearly lose control of the horse and utter about 500 expletives on camera, but she pulled it together for a natural, friendly commercial that gave her another challenge win. Laura, poor sport that she is, ends up pouting and doesn't congratulate Kiara on a job well done; the spirit of Kristin is alive and well in the competition, you guys.
Bikini Model Realness
The photo shoot brings back Jez Smith and Ben Bennett for the Dream Come True campaign; the former was the photographer for last season's shoot (and is a former judge on Australia's Next Top Model), while the latter is a representative from Hatch Beauty, the company behind the fragrance and a man with a strong opinion. The shoot will feature a giant bottle of the perfume in the water and each girl in a white bikini, with the theme being the youthfulness and energy that comes from your dream about to come true. Or something.
Nastasia looks very pretty during her shoot and seems to embody the brand of the fragrance pretty well, particularly once she brought a little more angularity to her posing. However, she might not have given THE shot that she needed to stay in the competition. Leila let her nerves get the better of her for much of the shoot and seemed to be sleepwalking her way to a 4th place finish, but once she found the right mindset and turned the "model" on, she gave off a warmth that we haven't seen from her before. After a totally unnecessary talk from Bryanboy that reeked of producer interference and/or possible sandbagging, Kiara gave us the measured sensuality that lacked in her dolphin challenge last week; there, she turned into a video girl within 3 frames and brought too much hooch in her tooch, but here, she's comfortable and not overdoing it. Laura's recent bout of insecurity continues in her shoot, as she falls into the trap that Kiara did last week of trying too hard and making the sensuality turn into overt sexuality, off-brand for Dream Come True.
Panel
Clad in black shirts and brightly colored pants, the final four enter panel for the final time before they compete for the title next week. Leila's photo is a pretty shot that doesn't necessarily look like a Dream Come True ad, due to the sexuality emanating from the screen. There's this magnetism that she projects that isn't intentional, but it makes even the tamest of shots have a certain type of allure to them, so add that to a set-up like this and it could turn into something too hot very quickly. Kelly thinks the shot is a little too "ba-bam-y" and that she'd be uncomfortable with something like that targeting her teenage daughter, but Rob thinks it's not too much and Tyra sides with him, claiming that the shot may upset some parents, but it's aspirational enough to work with the girls.
Kiara's photo has strong body language and a sense of poise that some of her other photos have lacked during the competition, but she's not looking at the camera and that's a tiny bit off-putting to me. Had she turned her face toward the lens and caught the light like she did last week, she would have had an inspiring photo and one that made her a serious threat in the finale, but it ended up being merely very good rather than great. Kelly's not a huge fan of how "wishing well" her face looks, but Tyra ended up being pleasantly surprised and since we know that Kiara is Tyra's girl, that says a lot. Nastasia turned out a photo that was the most on-brand of the bunch, dripping in innocence and wonder with a nice touch of movement and a non-awkward use of the bottle. However, Tyra informs us that the Top Model demo is 18-34 and that Nastasia's photo leaned too young, which I don't agree with on both accounts.
Finally, Laura's photo was very underwhelming and no judge could find a major compliment to give it, something that's typically a bad sign. Kelly feels like Laura's losing the edge that she had in prior weeks, while the stiff, non-committal body language and hand placement were critiqued.
The bottom two ended up being Laura and Nastasia, with Nastasia being eliminated by less than half a point. However, she remained rather upbeat in her final interview, having not expected to make it this far.
America's Next Top Model Weekly Leaderboard
1. Kiara – 39.0
2. Leila – 37.1
3. Laura – 35.8
4. Nastasia – 35.5
Additional thoughts and observations:
-Can we talk about that opening montage of each girl "lost in thought" and being "haunted" by the critiques they've received during the cycle? I've seen a lot of ridiculousness in my days of watching Top Model and I think this nearly took the cake.
-Rob and Yendi weren't that supportive during the commercial, right? I thought that they'd watch the first take, offer a few words of encouragement/pointers, and then let them do the second take, but they were a bit too removed from the action for my liking.
-I want to root for Laura because I think that at her best, she has the potential to be a great model, but between the awful attitude and the constant crying, I can't muster up any excitement for her.
-Conversely, I really like Nastasia and think that she got a raw deal tonight, but all the random God talk put me off. Honey, God has more important things to worry about besides you winning a competition on The CW. Like me getting my review in on time so I can go to bed.
-What'd you think about the weird pre-panel shot of the final four that was like "okay, let's go"? Have they ever done that before?
-Bryanboy was serving NeNe Leakes realness with that wig, right? Also, I beamed with pride at Kelly threatening to rip it off his head. I run hot and cold with Kelly, but when she's good, she's truly excellent television.
-Tyra pretty much rubbed Nastasia's loss in, stressing that had she pulled it together in the challenge, she would have been in the final three and not Laura. I love me some Aunt Tyra and I don't think she did that maliciously, but it read really, really poor on her.
-The judging scores have been…very weird recently. Out of proportion with the comments, even. I know that panel is a long, long affair and that they had to cut down a lot in order to make the episode flow and whatnot, but how in the world they gave Laura's photo 2 7s and an 8 and couldn't find a compliment for it, I'll never know. My Top Model senses tell me that they may know how everyone did in social media and challenge before panel and tailor their scores to keep the "right" girl in/provide the best drama.
-Next week on America's Next Top Model: It's the finale, everybody! Kelly mentors the final three through their Nine West campaign shoot, the models head to Half Moon Bay for their Nylon shoot, and the runway show takes place at the haunted Rose Hall Great House in Montego Bay. Might we be in store for part two of this? Let us pray.