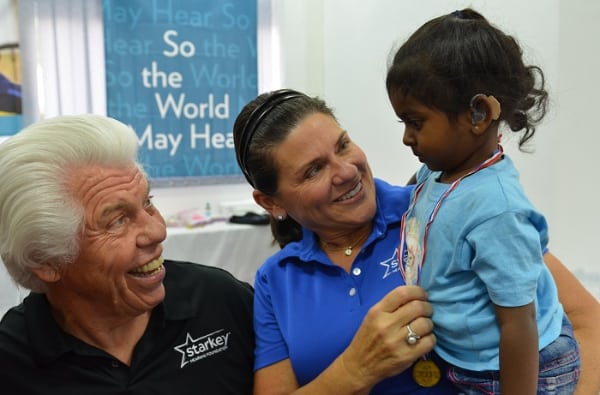 Musicians are particularly sensitive to the sounds of music. Composers and professional musicians listen to music differently than others, because it their passion, and their life's work. They recognize the importance of hearing in an acute way. That's why they make perfect volunteers for helping others to hear. It's one of the reasons why the Starkey Hearing Foundation includes them when they work with people needing hearing aids in global communities. The shining stars of the music world not only perform at the annual foundation galas, but they perform at hearing aid missions around the world.
The Starkey Hearing Foundation was founded in 1984. William F. Austin started the charity because he realized that hearing was a gift he could give to the world. His vision built the foundation. It was simple, and described in five words: "So the World May Hear".
The foundation began with helping folks in Minnesota. Then it expanded to helping people in the United States. After that, thousands of people helped to make better hearing possible around the world. They volunteered and offered support, and the foundation flourished. In 2010, the foundation committed to providing 1 million hearing aids within ten years. This promise was made to the Clinton Global Initiative, and as a result, people living in more than 100 countries have received help.
This year, the 17th annual So the World May Hear Gala was held in St. Paul, Minnesota. There were over 1,500 guests at the record-breaking gala. They came to the RiverCenter to celebrate the growth of the foundation and to award the milestones of the past year. A new health clinic broke ground in Dakar, Senegal, West Africa. It will be the hub for the foundation in that region. It was recognized at the gala. The first class of student graduates from the Starkey Hearing Institute were also recognized.
The Master of Ceremonies for the evening was Sinbad, and Portia Clark, Steven Tyler, ARIA, Darius rucker, Grace VandeWall and John Fogerty entertained. As a result, $7 million in funds were added to the foundation, providing more money for hearing programs in communities around the world. This year, the gala honored Ben Affleck. His work including founding the Eastern Congo Initiative. Also honored were Madam Esther Lungu, Scott and Sandi Borchetta, and FedEx Corporation. Each of these honorees have made long term commitments to the foundation.
While the gala focuses on yearly growth and achievements, the hearing missions bring top musicians to communities in need around the world. These skilled pros help with fitting hearing aids. They also lend their voices to support many first moments of hearing sounds. Here are a few top performers doing what they do best and explaining how their love for music inspires them to help others hear:
1. Miley Cyrus sings with kids in Haiti, helping them with their first hearing aids:
2. The Hollywood Vampires, with band members Joe Perry, Alice Cooper, and Johnny Depp, perform at the Rock in Rio Festival and help out with hearing aids in Brazil:
3. Grace VanderWall performs at the 2017 gala:
4. Jordan Sparks performs her hit song "The Cure" at the 2010 gala:
5. Sammy Hagar joins the Cabo San Lucas, Mexico hearing mission:
6. Sir Elton John talks about the importance of hearing music during his hearing mission in the Philippines: