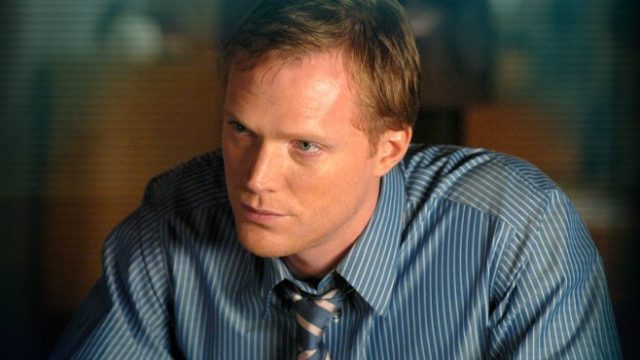 Some actors can be kind or cruel depending on their role, but Bettany is one that is uniquely refined no matter what part he plays. His calm demeanor and elegant style are sometimes roughened around the edges by the roles he takes on, but almost always he is the perfect gentleman. This is undoubtedly a part of his natural charm that has elevated him to the position he currently enjoys as one of the hottest rising stars in Hollywood.
Here are our picks for Paul Bettany's top five movie roles:
Dr. Stephen Maturin – Master & Commander
The film didn't do much at the box office, but this wasn't exactly due to the acting, which was spot on and quite engaging. Playing opposite Russell Crowe, Bettany's role as the surgeon, Maturin, was hardly that of a combatant, but instead one of a very concerned doctor that sought to keep his crew members alive and his captain on a stable course. As the voice of reason in an otherwise chaotic setting Bettany found a role that was quite adaptable to his style.
Jarvis – Iron Man
For his run in the Iron Man franchise Bettany would never be seen, just heard, as his voice as given over to the AI known as JARVIS, the helper/servant/personal assistant to Tony Stark. Once again seen as the voice of reason Bettany had as much as he could handle in the likes of billionaire philanthropist Tony Stark, and served as more of a foil to the exuberant playboy's otherwise impulsive nature. Some could say that JARVIS was a bit of an enabler, but given that he was programmed by Stark to perform certain functions and not interfere you could also say that it wasn't really his fault when Tony hurt himself.
Vision – Avengers: Age of Ultron
When the AI gains its own body and becomes its own person you get, that's right, the Vision. Originally intended to be a new vessel for the film's main antagonist, Vision was woken up on accident by the Avengers before Ultron could download his entire personality into the synthetic being. This was fortunate considering that as JARVIS, Bettany was still classified as a "good" guy, and would therefore turn on Ultron to preserve life rather than take it. Plus, given that he possesses one of the Infinity gems it definitely helps that he would rather help the Avengers rather than destroy them.
Silas – The DaVinci Code
This is probably one of Bettany's creepiest roles to date. Playing an albino monk that murders others on the order of his mysterious Teacher does not seem to be much in character for Bettany, but he plays it well and is able to make it convincing. While a great deal of controversy and debate has raged over the film, Bettany's performance stands out as one of the most disturbing but masterful of the entire movie.
Geoffrey Chaucer – A Knight's Tale
So this is kind of a jab at medieval life by way of using more modernized speech and ideas, but it was a charming and witty movie all the same. Bettany couldn't have done any better as Chaucer in many people's opinions, and the updated style that was brought to life was highly entertaining. While he plays a man with a serious gambling problem he is also an individual that shows a great range of emotion and depth throughout the film, making him one of the more memorable parts of the whole thing.
Charles Herman – A Beautiful Mind
This was the film that put Paul Bettany on the map and he played one of John Nash's delusions eloquently.
Conclusion
Despite his heroic roles, Bettany has indeed played a villain as well, but his strength seems to run towards the gentlemanly role and that of the honest superhero that seeks to make the world a better place. While some of his characters obviously have their faults it can easily be said that few others could possibly match Bettany's ability to bring them to life in such a manner.