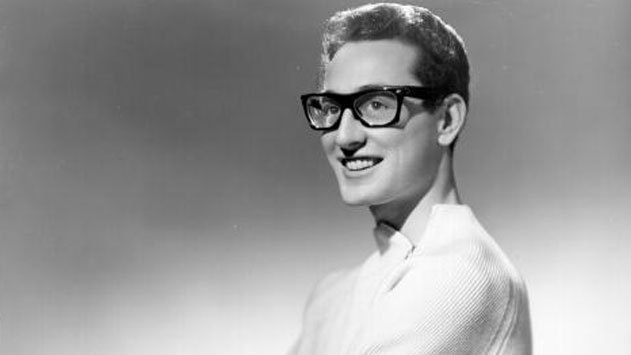 When you want to talk about legends you'd best not leave Buddy Holly out of the mix. This young genius was taken too soon in a plane crash while on tour, the same crash that killed Ritchie Valens as well. Up until that moment he'd been one of the pioneers and most popular rock and roll artists that had ever stepped on stage. It was believed that he would help to usher in a new wave of music the likes of which had never been seen before, and despite his passing the idea never fully went away, which is why his music is still such an inspiration to this day. The music might have died on that fateful day but it's been resurrected more than once throughout the years thankfully, and the contributions that Buddy Holly made are still felt throughout pop culture.
Here are a few examples to show you just how influential his music has been.
5. Kingsman: The Golden Circle-Raining In My Heart
https://www.youtube.com/watch?v=xdEeG-1ewQg
One of the newest films to come out bearing his touch,  Kingsman is a movie that is a curious blend of English and American elements that tend to clash more often than not and yet still manage to work together. It's been surmised that some of the greatest rock and roll artists have come from England, but the true, rebellious spirit of rock and roll is American-made, and ironically became something that the English greatly coveted.
4. Juno-Dearest
Teenage pregnancy isn't something that needs to be glorified but like every other "oops" moment in life it can at least be humorous so long as things are going okay and those involved are doing something about it to make life better for those around them, and the child of course. No one wants to be a parent in their teenage years and those that say they do have no idea what they're in for. Thankfully though this movie ends on a very good note.
3. American Idol-Wake Up Little Susie
Buddy Holly's songs are not only upbeat but they're very easy to sing. It's not much of a wonder why people pick them out when they decide to sing in front of others. His songs have a definite movement to them that's infectious and makes you want to move your feet and even get up and dance if the mood strikes you. It's just fun, engaging music that anyone can enjoy.
2. Stand By Me-Everyday
Nobody has friends like they did when they were kids, even if the same friends hang around together for their entire lives. Things are bound to change one way or another and the chances that you'll always be in the same kind of relationship with your buddies is next to nil. Those that realize this tend to look back on such times with a fondness that reminds them of what it was like to be a kid, and that makes the experience worth it no matter what.
1. Almost Famous-Peggy Sue
This scene is pretty ironic since Buddy Holly was killed in plane crash and this band that almost nobody knows that much about is looking like they might go down in the same manner. Some might claim it's in poor taste just because of the subject matter but to be honest it might have been the only way that this particular band ever achieved any kind of fame.
Buddy Holly's been missed ever since his passing, but his music has remained, and for that a lot of us can be grateful.
Save