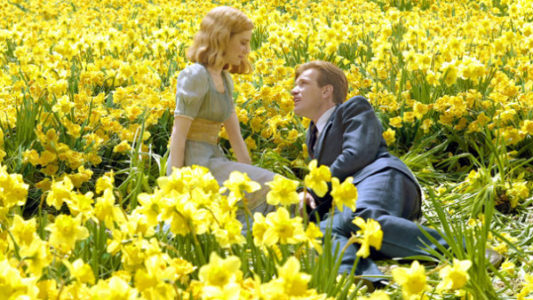 Pearl Jam came on the scene in a big way in the 1990's and has been going strong ever since. They shared a drummer with noted rock band Soundgarden at one point and made their own name on the Seattle scene to the delight of millions of fans. Their sound is very unique and was quickly adopted by many fans that were into the Seattle rock scene. In the last couple decades their music has been featured in many films and TV shows to great reviews.
Here are five of the films in which Pearl Jam's hits made a decidedly great addition to the soundtrack.
5. Life As We Know It – Just Breathe
Having kids is tough. Raising kids that aren't your own, with someone you don't initially have any real feelings for, is even harder. Holly and Messer eventually come to terms with the fact that they do love one another, but during the transition from being single and without children they both experience a great many ups and downs that nearly tear them both apart. Children are tough to take care of, especially when you have no idea what you're doing.
4. Reign Over Me – Love Reign O'er Me
9/11 was horrible. It was a tragedy in American history that will not be forgotten. But the fallout was even worse as it has lasted ever since, coming close to two decades. Some people have moved on, remembering those they lost and honoring their memory by moving forward. But those like Charlie Fineman were destroyed by the loss of their loved one and have yet to fully recover.
3. Riding Giants – Low Light
It makes sense that Pearl Jam would be featured in a surfing movie. Eddie Vedder, the lead vocalist for the band, would often go surfing to think about the lyrics of the songs. His inspiration allowed him to come up with some of the greatest rock songs to ever be heard in a generation and have allowed Pearl Jam to keep their spot amidst the rock legends thus far.
2. Big Fish – Man of the Hour
Edward Bloom certainly had an interesting life that he feels comfortable sharing with others. How much of it is truth is something his son and several others will hotly contest, but experience and perspective are often two things that are hard to just give others. You really need to live those moments for yourself. Bloom had no problem going out and living his life, it was dealing with what happened when life finally grabbed hold and didn't let go.
1. Surf's Up – Big Wave
It's tough being the one that people don't count on to do much in life, but Cody makes up for it with an attitude and a desire that don't allow for quitting. So yes, he almost quit at one point, but when he was reminded what surfing was about he came back with the realization that it wasn't all about winning. It was about getting out there and just cruising the waves looking for that always elusive inner peace that so few people find.
Pearl Jam's music in films has been monumental throughout the years and has helped to make many scenes a lot more meaningful.
Save