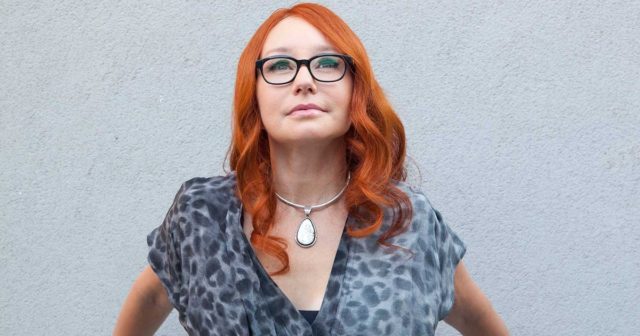 Tori Amos, born Myra Ellen Amos, is a prodigy in the sense that by the time she was five years old she'd already been writing and composing her own music and was accepted to John Hopkins University as the youngest person ever admitted. She was expelled at the age of eleven however for what was dubbed "musical insubordination". I get the feeling that she didn't want to conform and thus got kicked out as a result. That doesn't really surprise me but it does tend to say a lot about her, as in she has a great deal of passion that can't be contained.
It took her a while, but by the 1990's her solo career finally took off and she was on her way.
5. Conan-Cornflake Girl
This is by far one of my favorite songs from Amos of all time. The feeling of it is such that easily drives itself forward and carries the listener with it or allows them to ride the crest of the melody as it comes and goes. This was during the height of her rise to fame and being on Conan was one of the big parts of anyone's career. Being on a show like this meant that you were on your way to something better, hopefully.
4. Mona Lisa Smile-Murder He Says
In the days in which women were still expected to be dutiful wives and mothers it was almost as though men preferred the blinders that society had deemed necessary to place over the eyes of those women who willingly accepted this fate. when the role of women in society began to change however new vistas opened and a decidedly different course was opened so that women could finally claim what they wanted rather than what was expected of them.
3. The West Wing-I Don't Like Mondays
Sometimes political TV shows need a softer touch, and Amos' voice can provide that even if it might seem like her lyrics could be used as a scathing retort now and again. Thankfully she balances her music so well that even if such a thing did happen it would be far more peaceful than the average discussion within the White House.
2. Tori Amos-Up The Creek
There's something very edgy and alive about her music that is very, very alluring. I recall the first time hearing her I couldn't help but stop and listen for a good amount of time even though I had no idea who she was. That quality she has to make you want to keep listening is something that makes it hard to believe that she didn't take off right away with her career. Of course when she really started trying to get anywhere it was the 80's, and her music really fit more into the 90's era to be honest.
1. Tori Amos Live-Cornflake Girl
I had to add this in twice just because it's that great of a song. I can recall listening to this when it was first released at least two or three times a day whenever I could, and the music never got old. That's the mark of a great song.
She is without a doubt one of the greatest musicians alive.