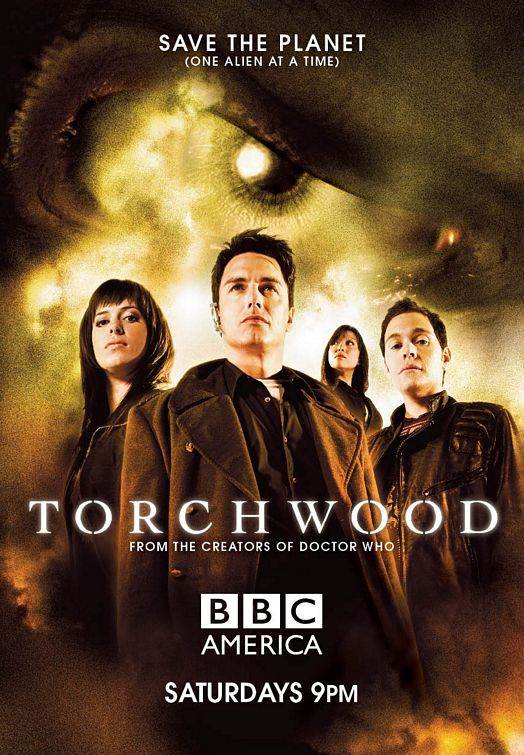 I don't know how I feel about this, I honestly don't know. When I found out that FOX was developing a stateside version of the British sci-fi series Torchwood, I felt the excitement that the US would be getting to see Torchwood on a more viewed network — save for the fact that it wouldn't be the same Torchwood that sci-fi fans have come to know and love.
The British Torchwood is a spinoff of the hit series Doctor Who. Featuring the Doctor's former companion Jack Harkness as the protagonist, Torchwood (the title of which is an anagram of Doctor Who) has been described as "24 with aliens." Though Harkness is American, Torchwood is deeply intertwined with the mythology of Who, a distinctly British show? Will it be able to work on American screens?
Possibly, and possibly not. Though not even approved for a pilot, the series is being scripted by former Who scribe Russell T. Davies, who ended his tenure on who with the departure of David Tennant from the role of the Doctor (Davies isn't the only one moving to American television; Tennant will star in the new NBC series Rex Is Not Your Lawyer).
Will Torchwood U.S. survive the harsh stateside ratings game? It might. While the 24-like element will likely attract some viewers (especially with it rumored to be 24's last season), the sci-fi plot might just scare them off. My prediction: it'll either be a huge failure, or it'll be a huge hit (think V).
If it is a huge hit, however, there may be something that fans of the British Doctor Who may have to take issue with: the inevitable Who remake. "Tranter might try to reboot Doctor Who for U.S. audiences," The Hollywood Reporter says.
Let's hope not. Remaking Britain's beloved Doctor would provide considerable backlash."The horror!" proclaimed one fan of the series. I agree. I very much agree.