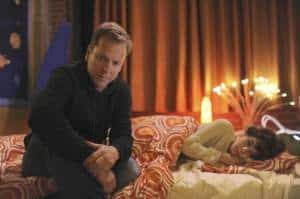 Tim Kring made his mark on television when Heroes first premiered and now the showrunner is bring his new drama, Touch, to Fox.
Starring Kiefer Sutherland, Touch centers around a father with an autistic son. Sutherland plays Martin Bohn, a widower with an 11 year old son named Jake. Unfortunately, despite his best attempts, Martin is unable to really reach Jake, who doesn't speak. While he has trouble connecting with people – including his father – Jake is obsessed with writing long strings of numbers. A social worked named Clea Hopkins thinks it's time for the state to step in on the situation, since she believes Martin is overwhelmed with caring for his son's needs.
Later, Martin meets Arthur Teller (played by Danny Glover) who sheds some light on Jake's case. Arthur explains that Jake actually has a special gift: he can find hidden patterns in the numbers he writes – numbers that show us the unexpected connections between people around the world.
"This show is about inter-connectivity" Kring explains. "[Touch] tells stories about peoples lives being interwoven and interconnected in ways that we may never have thought of before. But at the heart of it is a father and son story." Below is a preview and sneak peek for Touch, including interviews with Kring and Sutherland.
A special preview of Touch will air on Wednesday, September 25 from 9:00-10:07 p.m. EST. The show will then have its official series premiere on Monday, March 19 at 9:00 p.m. EST on Fox.