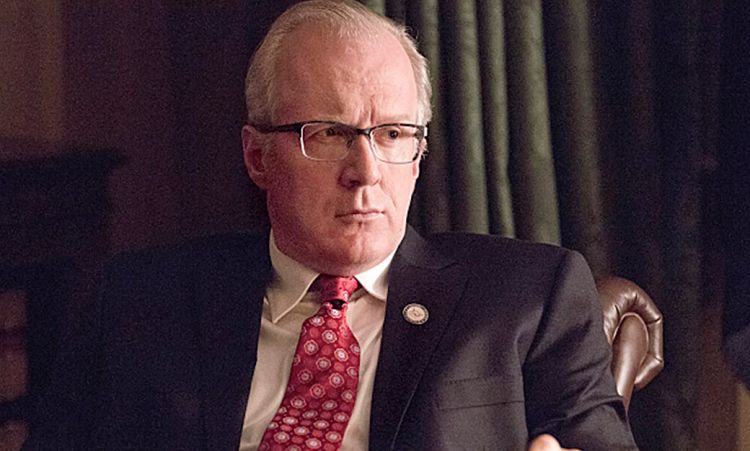 Over the past two decades, 54-year-old Tracy Letts has become one of the most respected figures in Hollywood. Regardless of whether he's acting up a storm on stage, penning masterful creations like August: Osage County, or entertaining us on shows like Homeland and Divorce, everything he does seems to carry the stamp of quality. For more about the talented Mr. Letts, keep reading.
1. His parents were his main inspirations
Letts was born in Tulsa, Oklahoma, and raised in a small town in Southeastern Oklahoma. Given his eventual choice of career, it's probably not surprising to learn he grew up in a vibrantly creative household: his mother, Billie Letts, was the award-winning author of such novels as Where the Heart Is (1995), The Honk and Holler Opening Soon (1998), and Made in the U.S.A. (2008), while his father, Dennis, was an actor and college professor. "My parents were hugely influential on my creative life," Letts has since explained to Roundabout Theatre Company. "They both had wonderful and surprising second careers, my father as an actor and my mother as a writer. They were both funny and mercurial and passionate and curious. Gifted storytellers"
2. He's a Two Time Tony Award winner
Letts' career has been long, prolific, and almost unanimously applauded. In 2008, he picked up what would be the first award of many when he won the Pulitzer Prize for Drama for August: Osage County. That same year, the play also earned him a Tony and a Drama Desk Award. In the years since, he's won another Tony in the category of Leading Actor in a Play for Who's Afraid of Virginia Woolf?, plus numerous nominations at the Writers Guild Awards, Broadcast Film Critics Association Awards, Screen Actors Guild Awards, and Pulitzer Prize Awards.
3. He was once engaged to Sarah Poulson
For a brief time, Letts was engaged to actress Sarah Poulson. After the relationship ended, he found love again with actress Carrie Coon (best known for The Post and Fargo) after they met while appearing together in the Broadway production Who's Afraid of Virginia Woolf? The couple married in 2013 and welcomed their first child, a son, in 2018.
4. His net worth
Winning a Pulitzer Price doesn't guarantee fame and fortune, but in Letts' case, it's bought both. Thanks to his dual career as an actor and writer, Letts has been bringing home a salary on two fronts for the past couple of decades, the sum total of which amounts (in the opinion of Celebrity Net Worth, at least) to a very cool $1 million.
5. He began his career on stage
Letts got his start in the industry on stage. After moving to Chicago at the age of 20, he started working at the Steppenwolf Theatre Company. He spent the next 11 years treading the boards with the company, with one of the most notable plays being Steve Martin's Picasso at the Lapin Agile (1994). Letts has remained active with the theatre to this day, and in 2008, he even chose it as the venue for the premiere of his Pulitzer Prize-winning play, August: Osage County.
6. He made his TV debut in Home Improvement
In 1995, Letts began transitioning from the stage to the small screen with an appearance on Home Improvements. Since then, he's built up an impressive body of TV work, appearing in the likes of Prison Break, The District, Strong Medicine, Profiler, Judging Amy, The Drew Carey Show, Seinfeld, Early Edition, and Homeland. In 2016, he landed the recurring role of Nick in HBO's marital comedy starring Sarah Jessica Parker, Divorce, and in 2018, he joined his wife, Carrie Coon, on the second season of anthology crime drama series The Sinner.
7. Turning down roles is his new favorite thing
Letts' Tony Award-winning performance in Who's Afraid of Virginia Wolf? catapulted him into the big time, opening the door to parts in everything from the 5 Academy Award-nominated Lady Bird to James Mangold's sports drama, Ford v Ferrari. His rise to the top of the acting food chain hasn't been without its perks, chief among them, for Letts at least, being the opportunity to say "no". "Oh, it's the greatest thing in the world," Letts told Indie Wire about his joy of turning down parts. "The first time I ever said no to something, I got an audition for a part on 'Law & Order.' I didn't get the part I auditioned for, but they came back to me and said, 'We want you to play this other part.' 'All right, well, what happens?' 'Well, Vincent D'Onofrio is interrogating you and throws you up against a fence. And I said, 'OK, where's this shoot?' 'It's far out in Queens.' '…how much does that pay?' 'It's one day's work. It's going to pay you $500.' I said, 'Wow, how much would it take for me to get thrown up against the fence by Vincent D'Onofrio all day? You know what? It takes more than $500.' So, I said no. I turned it down, and it was the greatest feeling in my life."
8. The script is king
Considering he's a screenwriter, it's probably not surprising that the first thing Letts' considers when deciding whether or not to take a role is the quality of the script. "The only way I know how to do it is to choose good material, to choose a good script," he told Deadline. "That the script itself is high quality. And I like to say that if you see me in it, it's because I think the script is good. Who knows? Maybe I'll be wrong about that someday. So far so good though."
9. He finds it hard to keep motivated
Considering his prolific output, you wouldn't have thought Letts would struggle with motivation, but according to an interview with Roundabout Theatre Company, keeping himself inspired is a constant struggle. "I struggle with it, frankly," he confessed. "I can't tell you the number of times in the last couple of years that I've wondered, "Why did we bother writing All My Sons and To Kill a Mockingbird? And then I splash some water on my face and pour a cup of coffee and head back to the typewriter. I don't know what else to do."
10. Three of his screenplays have been adapted into films
Since winning international acclaim with the play August: Osage County, Letts has won the opportunity to rewrite three of his plays for film. The first, Bug, was released in 2006, followed in 2011 by Killer Joe, and in 2013 by August: Osage County.