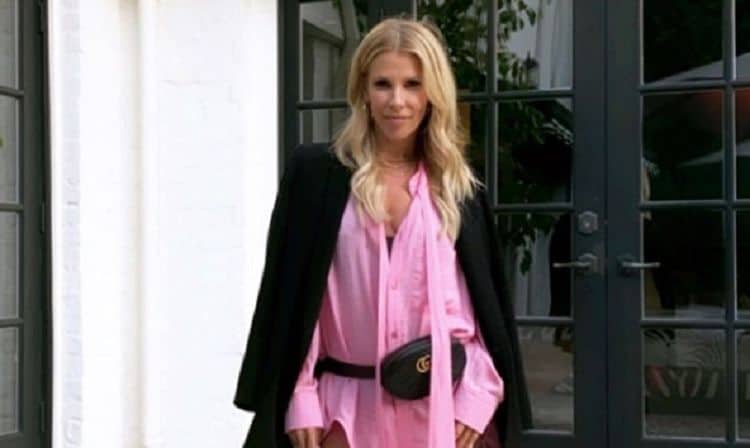 20 years ago, most people probably would've never thought there'd be much overlap between real estate agents and TV stars. However, reality TV has brought those two worlds together in a very entertaining way. As one of the stars of Million Dollar Listing Los Angeles, Tracy Tutor has become an official reality TV star. Tracy joined the show at the start of season 10, and she has quickly become a favorite. She has more than over two decades of experience in the real estate industry and she is well-known for being one of the best in the business. Between her work ethic and her people skills, it's easy to see why Tracy has been so successful. Continue reading for 10 things you didn't know about Tracy Tutor.
1. She Was An Aspiring Actress
Working in real estate wasn't originally part of Tracy's plan. Instead, she always dreamed of being an actress and was working towards that goal for many years. In fact, she made two on screen appearances during the late 90s, bt unfortunately things with her career didn't go as planned.
2. She Has A Theater Arts Degree
Tracy attended college at the University of Southern California where she studied theater arts. Although her acting career didn't end up having the success she hoped for, her theater training has still come in handy for her work in real estate. She says, "Having a background in theatre and performance was a huge part of why I am successful in real estate. If you don't understand what connects to people, you are never going to be successful in sales."
3. She's A Fan Of Bravo
Tracy is the star of a Bravo show, but she's also a fan as well. Like most people, she can't resist a little reality TV from time to time, and she loves to tune into Bravo for some of her favorite shows. She enjoys shows like The Real Housewives of Beverly Hills and Southern Charm.
4. Her Father Is A Successful Businessman
Living a glamorous lifestyle definitely isn't anything new for Tracy. Her father, Ronald Tutor, is a successful businessman who is the CEO of Tutor-Saliba Corporation and is worth over a million dollars. Like Tracy, he also attended the University of Southern California.
5. She Isn't Allowed To Show Her Daughters On Million Dollar Listing
Tracy is a proud mother of two daughters. However, you won't ever catch them on the show. As part of her divorce, Tracy agreed that she would never show her daughters on the show. Arrangements like this have become common for reality TV stars in situations where their child's other parent isn't comfortable with all of the attention.
6. Authenticity Is Her Secret
People have wondered what it is about Tracy that has made her so successful as a real estate agent and a reality TV star. During an interview, Tracy said, "'Be authentic and let go of the perception that there is a certain way you have to be in business.' I think that when you are authentic to who you are, you may not resonate with everyone but you will resonate with someone. Those are the types of people that you want to be around, who will be loyal to you and who will want to continue to work with you. "
7. She Wrote A Book
Tracy is casting a wide net when it comes to sharing her talents with the world. She can now add author to her resume. In less than two weeks, Tracy will be releasing her debut book titled Fear Is Just a Four-Letter Word: How to Develop the Unstoppable Confidence to Own Any Room. As you may have been able to guess by the name, the book will share tips on how to feel more confident and empowered – especially in professional settings. 
8. She Loves To Hit The Gym
Even though she's a busy mother and career woman, Tracy understands the importance of taking care of her body. Not only can regular exercise help you look good, but it can also help you feel good by reducing stress and anxiety. Tracy loves to hit the gym and get in a good workout whenever she can.
9. Million Dollar Listing Helped Her Decide To End Her Marriage
When Tracy started on Million Dollar Listing Los Angeles, she was married to Jason Maltas. The couple has been married for about 15 years, but being on the show highlighted things in their relationship that neither of them were happy about. Fortunately, they were able to split amicably.
10. She's A Public Speaker
Being a reality TV star usually segues into other opportunities. Tracy is passionate about what she does and she enjoys sharing her story with the world. Now that she's built a platform, she has started doing public speaking gigs for all sorts of different kinds of events.