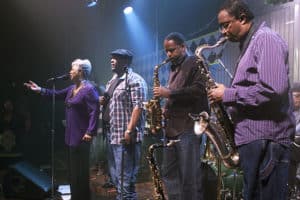 Treme will get to fulfill creator David Simon's four season plan after all.
According to The Times-Picayune, the Peabody-winning HBO drama has been renewed for a fourth and final season, with every cast member set to return. The season will be abbreviated, though no details regarding episode order have been released yet; the third season of Treme will have 10 episodes in total, which kick off on Sunday with premiere "Knock with Me – Rock with Me."
At a screening for the show, Simon remarked that the brass at HBO "want to see the end of the story" and that they had "fought very hard to give us half a loaf," which might indicate a five-episode order for the fourth season. The show has never been a huge draw for the pay-cable network, its survival mainly due to its creative strength and important social commentary, so the fact that it has made it thus long is a true testament to the spirit in which it was created.
Treme wouldn't be the first cable show this year to receive a shortened order for a final season. Showtime's The Big C earned a four-episode fourth season to finish off its story; however, each episode will be an hour-long, up from the half-hour of the previous three seasons.
Regardless of the length, Treme will be able to complete its story on its terms, as fortitudinous and defiant as the New Orleans residents that it's documented for 21 episodes and counting.
Following a 14-month hiatus, the third season of Treme premieres Sunday, September 23rd at 10:00 on HBO. You can check out a sneak peek of the premiere here, as well as episode details from the first two episodes of the season here and the TVOvermind Treme discussion forum here.
What do you expect from the final two seasons of Treme? Are you sad that the show will be ending, or are you happy that we got as many episodes as we did? When (and where on the schedule) do you think the final season of Treme will air?
UPDATE: According to the show's Facebook page, production will begin on the final season on November 5th. The fourth season will consist of 5 episodes total.