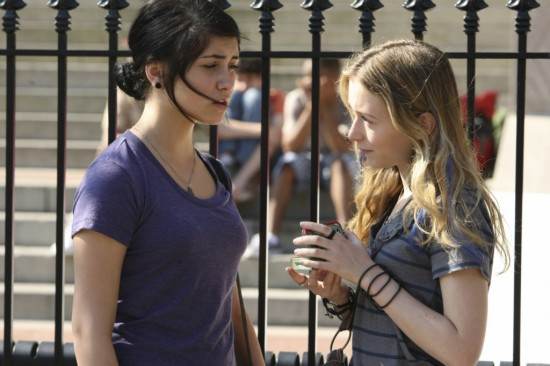 For the first two seasons of Treme, the good people of New Orleans had to deal with problems in both their personal and professional lives as well as the city they called home. There was no real safeguard for them to lean on at the time that they needed support the most, the storm having knocked out businesses, jammed up any city bureaucracy needed to get things moving again, and driven residents to madness. The third season, which premieres next month, looks to add a little more positive forward movement, the worst days of devastation seemingly behind. But things aren't all easy in the Big Easy and just because the biggest storm has passed doesn't mean the skies have completely cleared.
Below are the dates, times, episode names, episode descriptions, and repeat airings for the first two episodes of Treme's 10-episode third season.
SUNDAY, SEPT. 23 (10:00-11:00 p.m. ET/PT) – "Knock with Me – Rock with Me"
Antoine Batiste flirts with martyrdom; Janette Desautel encounters her old nemesis, Enrico Brulard (Victor Slezak), and a new suitor; Delmond and Albert Lambreaux debut their Indian-jazz album; Toni Bernette meets L.P. Everett, a new ally in her investigation of post-Katrina killings; LaDonna Batiste-Williams finds living with in-laws is its own kind of hell; Sonny is in an in-law hell of his own, and he and Linh (Hong Chau) aren't even married; Nelson Hidalgo is barking up new money trees.
Other HBO playdates: Sept. 23 (midnight), 25 (10:00 p.m.), 26 (midnight) and 27 (3:50 a.m.)
HBO2 playdates: Sept. 24 (10:00 p.m.), 28 (11:00 p.m.) and 29 (9:00 p.m.)
SUNDAY, SEPT. 30 (10:00-11:00 p.m.) – "Saints"
Antoine's students show interest and Annie's demo hits the mark; Sonny and Linh show interest, but no marks are hit; L.P. Everett's new case has smoke and fire; heat at the in-laws' house forces LaDonna to move; Hidalgo discovers a new angle; Janette's resistance slips; Albert learns he has chronic obstructive pulmonary disease.
Other HBO playdates: Sept. 30 (midnight) and Oct. 2 (10:00 p.m.), 3 (midnight) and 4 (3:40 a.m.)
HBO2 playdates: Oct. 1 (10:00 p.m.), 5 (11:00 p.m.), 6 (9:00 p.m.) and 13 (8:00 p.m.)
The third season of Treme premieres Sunday, September 23rd at 10:00 on HBO following Boardwalk Empire. You can check out the recently released poster for season three here, as well as a trailer here and a teaser here.
To talk about your predictions for the first two episodes and everything else Treme, head over to the TVOvermind Treme discussion forum.
Will you be watching Treme this season? How do you think Albert will react to his diagnosis? Can Toni make much progress in her investigation, given all the red tape she'll have to cut through to find answers?