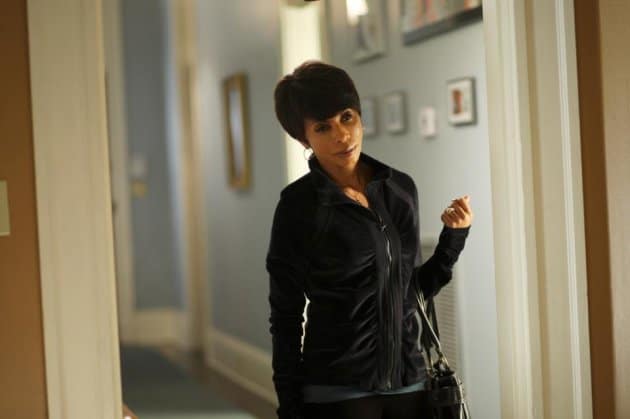 Last week's episode of Treme saw the death of an important character in the world of LaDonna. In the middle of the night, the man who had been caught lingering around the bar came down to Gigi's and burned it down as a warning for her to get out-of-town. By helping to put her attacker in jail and going to the hearing earlier this season, the bartender put a target on her back and following weeks of threats, something finally happened. It's not on the level of a physical or sexual assault, which she experienced in season two, but it hurts LaDonna like hell to see the work, heart, and pride that she put into her business enveloped by a flame and go out in a puff of smoke.
On the season finale of Treme, she'll be trying to assess the damage to the bar, which is ruined and charred beyond recognition. LaDonna may have list after list of what was destroyed in the fire in hopes of recouping the insurance money, but according to the inspector, there's a chance that she won't see a dime. Gigi's hadn't been brought up to code (or even seen an inspector since before Katrina) and with LaDonna fixing food on occasion, there could be an argument made that the fire was caused by faulty equipment rather than arson. However, if she could identify the man who had been intimidating her, she might be able to restore Gigi's to its former glory and be able to take a deep breath for the first time since the assault.
Elsewhere on Treme, Davis says goodbye to the music industry with a little help from Cheeky Blakk, Tim reveals his true intentions to Janette, and there's hope that the Abreu case will be prosecuted.
The 75-minute third season finale of Treme airs Sunday at 10:00 on HBO. The show has already been renewed for a fourth and final season, which is currently in production and will feature five episodes.
Do you think that LaDonna will be able to get the insurance money and repair Gigi's? What are Tim's true intentions for Janette? Should Davis stay in the music industry or is he making the right decision to bow out (somewhat) gracefully?