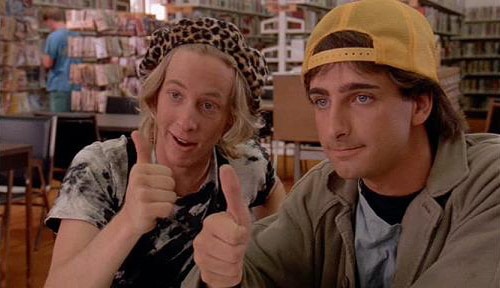 If you don't remember Dean Cameron then it's likely you didn't watch a lot of movies from the 1980's to early 90's. He's had a very full career since then, but his greatest stuff in the eyes of his fans came when he was playing roles that were so out of control and campy that  they were really only considered cool in their own time period. A few roles however have withstood the test of time and gone on to be remembered. As of now he's still an actor and a writer, so he's kept busy thankfully. In his youth though he was simply awesome at comedy and was one of the faces that brightened your day when you saw him.
Here are a few of his roles you might remember or at least enjoy.
Chainsaw in Summer School.
His real name was Francis but he didn't like being called that. It was Chainsaw, as in Texas Massacre. Believe it or not his file apparently said that. Anyway, Chainsaw was a certifiable nightmare for some teachers and an easy F for others. He didn't have a lot of concentration outside of his main interest, which was movie gore and how best to apply it and use it in a classroom setting. Give the guy credit he was pretty good at it, but until he could pass all his courses that obviously wasn't good enough. Still, he was a fun character that didn't disappoint when it was time to laugh.
Scotty McKay in Miracle Beach
https://www.youtube.com/watch?v=qV-cSslhkuI
Scotty was the nice guy, the good guy, the guy that wanted more than he could rightfully get with the talents he had. But then along comes a genie with a need to prove herself and a bad case of falling in love and things started to get better. All it took was wishing for something and Scotty got it. Eventually though he had to realize that what he really wanted was someone that would be there for him and would need him the same way he needed them. All the wishing in the world can't give you the head slap you need to come to your senses sometimes.
Pizza Guy in Men At Work
Poor pizza guy. All he was trying to do was deliver some cheesy goodness and he gets roped into a scheme involving a dead guy and a stakeout. At least during the movie he gets his own licks in as he becomes part of the group and helps get back at the bad guy. If nothing else he shows just as much comedic genius in this one as he did the many other roles he's been in. Dean Cameron is nothing if not funny.
Ski School
Because, obviously.
Like I said at the beginning if you didn't recognize Cameron then you likely didn't watch a lot of campy movies in the late 80's to early 90's. That was when Dean Cameron was at his absolute best and was absolutely hilarious. The roles mentioned above are some of his absolute best, and Men At Work and Summer School are absolute must-sees for any movie buff.
Save