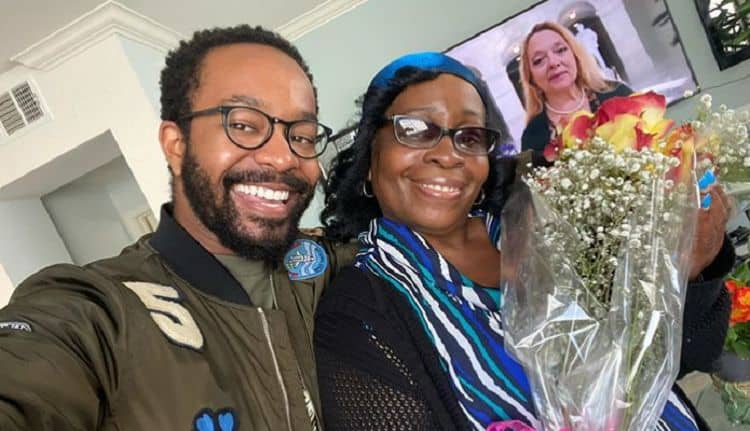 If you are a fan of HBO, then you most probably have watched or heard a word or two about the critically acclaimed TV show, Insecure. It is a comedy-drama that focuses on the lives of two friends who are the protagonists of the show and how they juggle their everyday lives. Of the recurrent characters is Thug Yoda, played by Tristen Winger. His role in the movie, while limited to short appearances have brought him much attention due to how he gets into character. Away from the camera, not much is available about him, and he hardly shares details about his personal life. However, if you want to know about him, then you are in the right place as we furnish you with ten things you probably did not know about Tristen Winger.
1. His Early Life
Tristen was born and raised in South Los Angeles, the son of a retired ballroom dancer. While his neighborhood is associated with a high crime rate, Winger says it is just the wrong portrayal, and the situation is quite tame as compared to what many believe. He still resides in his childhood neighborhood.
2. Getting Nod Of His Talent
As from Iyanna Jones' show on Blogtalk Radio, Tristen who was the special guest, says he wanted to be a performer while still young. At home, he was the centre of attraction where he would perform moonwalks or imitate his teachers and others around him. He also tried out several talent shows, experimenting with his various skills. He tried out singing competitions and acting or taking part in various performances punctuated his adolescent years. From a young age, he had his eyes set on the price of being a performer in the arts.
3. Parental Support
For many budding artists, support from the ones close to them gives them an edge in achieving their dreams. For Tristen Winger, his mom has had her back for as long as he can remember. When she discovered that he had an interest in performing, she was always on the lookout for activities to keep him engaged in his craft. When he was older enough, she helped him get admission to The Colburn School of Performing Arts, where he found his professional calling.
4. Education
To develop his skills in performing arts, he got enrolled in art school when he was older enough as earlier indicated. His training in the arts helped him find his footing in the entertainment sector and provided the bearing in the acting scene. According to IMDb, he got enrolled to the Colburn School of Performing Arts in 2000 to pursue tap dancing. He was under the guiding hands of Alfred Desio and Debbie Devine. He, later on, found out that his calling was in acting. He then made a move to join Amazing Grace Conservatory where his performances caught the attention of vocal coach Tracey Coley.
5. Dreams Of Being A Brain Surgeon
In our childhood, we all have dreams to pursue a higher calling that serves as our goals for years. For Tristen Winger, he wanted to be a doctor, more specifically a brain surgeon. He states that he was impressed by the prospect of treating other people, and the idea of opening someone's brain was his idea of fun. The magnet program he took part in school gave him the push in the medical direction due to the visits to the hospital. Though at the end of the day, the call to performing arts was stronger and he abided by it.
6. Music Production Stint
In a move to widen his scope in the entertainment scene, Tristen is also a music producer. He looks up to Pharrell Williams as his inspiration due to his experimental nature. He has some beats to his name, though he admits it has been quite some time since he sat down to produce some music.
7. Hobbies
When he is not in front of the cameras, Winger spends his time trying his hand in screenwriting. He seems to have aspirations to make it in the field of writing. He also likes to travel, and it is evident from his social media posts that capture him in various destinations having adventurous moments. He also produces music, though as earlier hinted, it is quite some time since he sat seriously for production duties. He continues with his childhood antics of impersonation, which is also evident in his social media handles.
8. Social Media Presence
Tristen is active on social media with profiles on both Twitter and Instagram. He seems to be more home on Instagram where he shares on his day to day adventures, and he is a few followers shy of the 15000 mark.
9. His Relationship Status
One thing that several of his fans may want to know is his relationship status. He is quite the hunk and has the ultimate looks on a 1.7-meter tall frame. The bad news is that his relationship status is unknown at the moment. It seems it is part of his move in keeping his personal life under wraps, and it does not appear it will change anytime soon. Maybe a surprise wedding bell may come to our attention soon.
10. His Net Worth
An entertainer's net worth is a marker for his achievements in the industry and is a detail many fans also want to know. According to the Net Worth Post, his asset base stands at $2 million. While not confirmed, this is the assumption presently, and we hope it is as such due to the extensive work he puts.
In Conclusion:
Tristen Winger has clawed his way up in the entertainment sector, a fact that is evident from his several roles. His professionalism is one of the factors that have made him rise the ladder, and it seems he will have an excellent standing in the entertainment sector. Though he is entirely on the down-low on his personal life, above are some of the things about him that you probably didn't know but now are knowledgeable about.