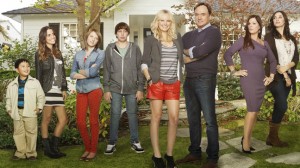 When you marry someone, you marry their entire family. On Trophy Wife, though, that goes beyond a meddling mother-in-law or excitable stepchildren and hits a new, potentially dangerous target – the ex-wife.
They say the third time's the charm, and reformed party girl Kate (Malin Akerman) is hoping that's true when she becomes Pete's (Bradley Whitford) third wife. She fell into his arms (literally) at a karaoke bar, and a year later Kate's got an insta-family, complete with three stepchildren and two ex-wives. Diane (Marcia Gay Harden) is ex-wife number one, an intense, over-achieving doctor and the mother of twin teenagers Hillary (Gianna LePera) and Warren (Ryan Scott Lee). Diane is quick to convey her withering disapproval of Kate's barely tapped maternal instinct. Ex-wife number two, Jackie (Michaela Watkins), is mother to adopted son Bert (Albert Tsai), and can pull Pete's strings with her special blend of neurotic, new-ageyness. Juggling all this baggage is uncharted territory for Kate, who finds support with her best friend Meg (Natalie Morales), a party-hearty singleton and the only woman Kate knows who has less experience with kids than she has.
Trophy Wife stars Malin Akerman (Suburgatory) as Kate, Bradley Whitford (The West Wing) as Pete, Marcia Gay Harden (Into the Wild, Damages) as Diane, Michaela Watkins (Saturday Night Live) as Jackie, Natalie Morales (90210) as Meg, Ryan Scott Lee (Super 8) as Warren, Albert Tsai (How I Met Your Mother) as Bert and Gianna LePera (Modern Family) as Hillary.
Trophy Wife is written and executive-produced by Emily Halpern & Sarah Haskins, executive produced by Lee Eisenberg & Gene Stupnitsky (The Office), produced by Malin Ackerman. The pilot was directed by Jason Moore (Pitch Perfect, Avenue Q). Trophy Wife is from ABC Studios.
Trophy Wife is set to air Tuesdays at 9:30. You can check out ABC's 2013-2014 schedule here.
Will you be watching Trophy Wife? How does the trailer make the show look? Is the show going to be a good pair with The Goldbergs?
[cf]video_one[/cf]