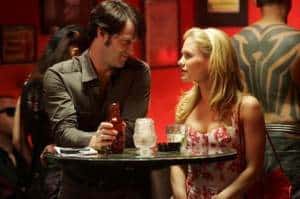 We're still a little over half a year away from the season four premiere of True Blood. While I was a little underwhelmed by season three of the show, here's hoping that season four returns us to the bloody fun that pervaded throughout the first season. Now, we don't know a lot about season four, but we do know that it will be based upon the fourth novel in the Southern Vampire Mysteries series, Dead to the World, and it will heavily involve witches, who we were introduced to a little last year. Now, we have just a tidbit more of information about the upcoming season: the second episode will be set in Eric's vampire bar Fangtasia, and will be titled "You Smell Like Dinner," according to E! News.
Fangtasia last popped up in season two as the scene of a tense confrontation between Eric and Russell Edgington, and was a main set for most of the season. Fangtasia is also known for its dark and gloomy basement from which several characters have never returned (such as Zeljko Ivanek's Magister).
Digital Spy is also reporting that some additional rumors have hit regarding the episode: "A source on the set has revealed that two new structures are being built for the show. The first is a bakery or a pie shop, while the second is a 'weird looking metal shack.'" At this point, having seen how truly crazy True Blood can get, I'm not even willing to make any guesses. All I can say is bring back Russell Edgington, and bring on season four of True Blood.
The fourth season will premiere on June 12, 2011 with an as-yet untitled premiere episode. The season will have twelve episodes.
You can check out more season four spoilers at this link. Stay posted with TVOvermind for even more True Blood spoilers as they become available.