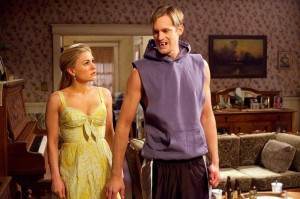 Last week's episode of True Blood had Jason (Ryan Kwanten) escaping his werepanther prison but barely making it out alive, Sookie (Anna Paquin) softened further to this new side of Eric (Alexander Skarsgård) and lied to Bill (Stephen Moyer) in the process and the witch/vampire relations became even more fraught as the witch controlling Marnie (Fiona Shaw) decided to hit Pam (Kristin Bauer van Straten) right where it hurts most; her face.
Warning spoilers ahead.
So what is in store for the folks in Bon Temps this week? Life certainly isn't getting easier in "Me and the Devil" as Sookie continues to keep Eric hidden, but will her delicious fairy blood become too tempting for him? Not helping with this is the reappearance of Godric (Allan Hyde), Eric's maker who has previously appeared as council to Eric even since his 'true death' in season 2. This version of Godric is less forgiving than the previous projection we have seen as he tells Eric that he is "incapable of love" and that he should give in to his nature and drink from Sookie as she will not be able to redeem him. Whether this is a dream sequence is unclear but things do not look good for the sleeping Sookie in the clip that can be seen below.
Elsewhere, Jessica (Deborah Ann Woll) and Hoyt (Jim Parrack) after finding a half dead Jason at the side of the road are still encountering relationship troubles. Hoyt is more than happy that his girlfriend used her blood to save his best friend and tries to show his appreciation. He gets rebuffed which would suggest that Jessica is feeling more than guilty for glamouring Hoyt and feeding on another human. Things are likely to get more complicated for the pair as Jason is likely to have some interesting dreams about his best friends girlfriend if other instances of feeding on this show are anything to go by. Jason has had more than a hard time after his repeated rape at the hands of the werepanther women so how will he respond to these kind of dreams and emotions from Jessica's blood? We have also seen with Jason that he falls in love very easily, will he think that he feels this way about Jessica as well?
The one person who wants to take revenge this week is Pam after what Marnie did to her face. As we know Pam does not mince words (her clip is NSFW) and the only person who she shows any kind of loyalty to is Eric, so when Bill tells her not to kill Marnie will she actually listen to her King? The punishment for killing a human this season as we have seen is the 'true death' so hopefully Pam is smart enough not to retaliate in such an obvious way. They also need Marnie and her group to try and reverse the spell on Eric but it is clear that Marnie is not in control of her actions. Marnie's mysterious dream that showed the witch that is controlling her being burnt at the stake, in what appeared to be the Spanish Inquisition period could hold the key to what this witch wants and why she might be going after vampires. She is clearly very powerful and I wonder what other tricks she could have up her sleeve.
"Me and the Devil" airs Sunday July 22 at 9 P.M. on HBO and you can see the promo here.
The True Blood cast will be appearing today at Comic Con so check back later for our coverage of that event. For more on Comic Con head here.
Here are the 3 sneak peaks: