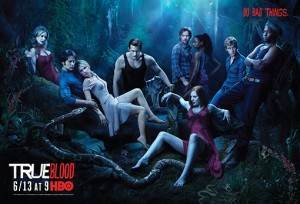 If you saw the title of this article and immediately thought "True Blood movie!," I wish that I could confirm that right now, and then we could all leap about in delight at the thought of seeing all our favorite supernatural southerners taking on the box office. Unfortunately, there's not going to be a True Blood movie, though the title of this article does not lie; True Blood is coming to theaters, and sooner than you think. When? Tuesday, June 1.
Fifty theaters across America will be having a special True Blood screening event on Tuesday night. You won't be seeing much new, though — the episode that's being screened is the season two finale, "Beyond Here Lies Nothin'." Don't be too disappointed, though — if you've already cleared your calendar for Tuesday, you can always go for the Q&A after the episode.
Entertainment Weekly's Michael Ausiello will be moderating the interview session with creator Alan Ball and the cast of the series, and you can submit your questions through True Blood's official Facebook or Twitter. The Q&A will begin streaming on HBO.com at around midnight EST.
Still not excited? You'll just have to wait until June 13, when True Blood returns to HBO for its third season, starting with the episode "Bad Blood," which, if you ask me, sounds pretty good.
In the meantime, you can entertain yourself with minisodes of the series, which can be found on HBO's YouTube channel. If that doesn't tide you over until June 13, you simply can't be helped.