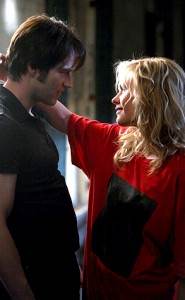 The vampires on True Blood aren't getting any warmer, but the ratings for HBO's supernatural soap have boiled over. True Blood hit a season high this weekend achieving 5.2 million warm blooded viewers. Ironically, as Sookie clung to life in a coma, True Blood also went on to dominate the 18-49 year old demo for the night most coveted by advertisers – a hoot since HBO does not sell advertising during the program.
Various outlets have reported that it was Jersey Shore that actually won the most individual 'sectors', but the faux tanned 'reality' program was neck and neck with True Blood in total viewers, despite an availability advantage that arguably gives True Blood a win after handicapping.
Regardless of the Guidos knocking at the coffin's back-door, True Blood continues to prove itself an 'entertainment' phenom. Live viewer numbers for pay channel programming has historically been much lower than what we are seeing in recent years. Add to that the numbers being served up by cable channels like AMC, TNT, and the like, and you begin to feel the winds of change blowing in your face.
True Blood is already booked for a fourth season, so the series has plenty of time to continue to impress. The question is, will True Blood eventually outgrow the confines of pay cable? With these staggering numbers, it is sobering to remember that HBO is only carried by one-third of television viewers – although the show's gritty brand of hedonism, horror, and romance would never fly on network television, it's interesting to think what kind of numbers True Blood could pull with that level of availability.
Source: Variety