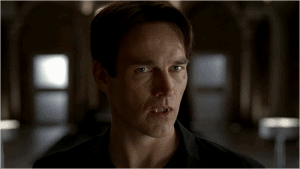 Season 5 of True Blood is coming to an end on Sunday and we will find out if the word of Lilith will prevail. There are several battles that will take place; one between Russell Edgington (Denis O'Hare) and the fairies, another over at the Vampire Authority headquarters between those who believe in Lilith (and believe they are chosen) and those who do not.
This week saw Bill (Stephen Moyer) embrace his new found religious ideology as he saw visions of Lilith telling him that he is the chosen one and to drink all of her blood. Bill is not the only one who has experienced this and fellow Chancellors Kibwe (Peter Mensah) and Salome (Valentina Cervi) also believe they are the chosen one. Bill has dispatched of Kibwe, but it is unclear as to what will happen when he confronts Salome.
Bill is also having a hard time controlling Jessica (Deborah Ann Woll) who isn't comfortable with this new religious fanaticism, especially when Bill refers to Jason (Ryan Kwanten) and Sookie (Anna Paquin) as food. Jessica wants to warn Jason about Russell and Steve (Michael McMillian) being on the hunt for fairy blood but when Bill refuses, Jessica spins a tale about wanting to make Jason into a vampire. Bill sees through Jessica's manipulation and calls her bluff sending her out to turn Jason. Jessica instead comes up with a plan that saves Jason and kills her security detail. Seeking safe haven in Fangtasia seems like a good idea for Jessica, but thanks to Tara killing Elijah (Keram Malicki-Sánchez) last week they receive a visit from the Authority and Jessica is taken back. Elijah happened to be Chancellor Rosalyn's (Carolyn Hennesy) progeny and so she knows that he is dead, Pam takes the blame for this killing and is arrested; Pam is also brought to the VA headquarters.
The spell of Lilith has been broken for Nora (Lucy Griffiths) who has managed to escape the VA building with Eric (Alexander Skarsgård) and they are now trying to find a way to stop the madness that has gripped their kind.
Sam (Sam Trammell) and Luna (Janina Gavankar) have successfully located Emma in the VA building but in the process have got themselves caught. As they are naked they look like the humans that are being used as chancellor food and Sam offers himself when he hears that it is for Bill. Sam doesn't know that Bill is not the same as he once was so this could be a terrible plan.
We meet the fairy elder who agrees in a roundabout way that Sookie is right in wanting to fight Russell. Sadly for the elder her powers are not strong enough to defeat Russell and he drains her of her fairy blood. This also means that the spell that was protecting the fairy club and making it invisible to Russell has been lifted and all of the fairies are visible to Russell; is this going to be another bloodbath? In other fairy drama it turns out that Andy (Chris Bauer) made a pact to protect their light and is a fairy baby daddy, awkward.
In the August 26 finale "Save Yourself" Eric attempts to stop Bill and his religious fever; can Eric save Bill and prevent a full blown war? Bill isn't the only vampire that believes they have been chosen and Salome will also be determined to carry out Lilith's plan. The fairies will face Russell and he appears to be unstoppable now that he has tasted fairy blood again. Sam will find out that Bill is not as sympathetic as he might have hoped and he will attempt to escape the VA building with Luna and Emma. Jason looks like he will be leading a group to the VA building and comments that the "time for tolerance is over." Who will make it out alive?
Watch the promo for the August 26 season 5 finale below.