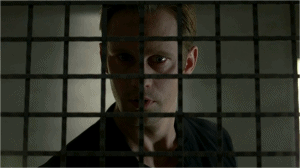 The hunt for Russell Edgington (Denis O'Hare) is over, but the danger is only just beginning on True Blood. This week saw Bill (Stephen Moyer) and Eric (Alexander Skarsgård) reunite with Sookie (Anna Paquin), but it was all business and no romance as they had a strict deadline to find Russell. The hunt led to a creepy disused asylum and even though Russell has now been found, it still isn't clear as to who was the person who broke him out of his cement grave.
Last week we ended with a very drunk Sookie's hooking up with Alcide (Joe Manganiello) and this was short lived after Sookie threw up on his feet; just in time for Bill and Eric to pop up and say hello. The pair is there for a bit more than pleasantries and without much persuasion they got Sookie on board with their finding Russell plan. This plan involved Sookie using her very special skill set to try and reclaim the memories of Alcide's employee Doug (Jayden Lund). Sookie can see that it is a female who glamoured Doug and who is part of the Authority, leading Bill to assume it is Nora (Lucy Griffiths). Eric still claims that he did not reveal any of this to Nora; could it be another female Chancellor who is behind the whole thing?
They did indeed find Russell thanks to Sookie who took charge this week and Russell was more than happy to see Sookie, not so much with Bill and Eric. Just as Eric is going to give Russell the true death, it looks like something attacks Alcide. Alcide could smell that wolves have been in the asylum, are they here protecting Russell as they have done before?
Danger lurks beyond Russell and there is a group out to get supernatural folk and after the death of Sam's (Sam Trammell) shifter friends last week, he and Luna (Janina Gavankar) are both shot. Luna's daughter manages to use her well timed wolf changing status to run away, but will Sam and Luna survive the night?
Terry (Todd Lowe) is also in a perilous position as it transpires that they have been cursed by the tragic and horrific events in Iraq and now there is a smoke monster after them (see also Lost and The Lord of the Rings' Balrog). Patrick (Scott Foley) still doesn't believe him however and just thinks that what Terry claims to have seen was because of the drugs that they were on.
A new friendship blossomed between Tara (Rutina Wesley) and Jessica (Deborah Ann Woll) as Tara is still coming to terms with her new vampire status. This was short lived however as Jessica caught Tara feeding on a very willing Hoyt (Jim Parrack) and a huge fight ensued; will they trash Fangtasia in the process?
Another person still finding it hard to adjust to their supernatural powers is Lafayette (Nelsan Ellis) and he calls upon Jesus (Kevin Alejandro) to give him a sign. The sign that he is given isn't great though as Jesus appears to him with his mouth sewn shut. Jesus also appears to Lafayette's mother Ruby Jean (Alfre Woodard), also with his mouth sewn shut but she appears to understand what he is trying to say.
On the July 15 episode of True Blood expect more mayhem as Russell is well enough to walk and looks set to feed on Sookie; can she use her microwave fingers to stop him? Andy continues his investigation into those that are hurting supernatural beings and Hoyt appears to get caught up in the whole thing after his trip to Fangtasia. Pam (Kristin Bauer van Straten) breaks up the Tara/Jessica fight and offers some praise in the only way she knows how. Terry and Patrick are still plagued by their smoke monster which leads Terry to make a big decision regarding Arlene (Carrie Preston). All is not well in the Vampire Authority as Roman (Christopher Meloni) rages and Nora claims that it is finally happening, but what is she talking about? The episode title is "Hopeless" which suggests that for some this will be an especially bad week.
Watch the promo for the July 15 episode below and for more coverage of the show, including sneak peeks, photos, spoilers and more, browse and bookmark our True Blood page.