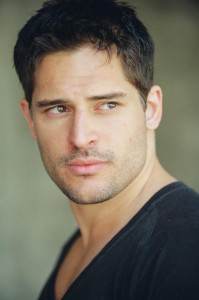 Production on HBO's hit vampire series, True Blood, resumed early this month for its third season, which is set to air in summer 2010. Based on all the casting news that has been released for just the first few episodes, it looks like there will be plenty of newcomers. (Minor spoilers ahead)
Fans of Charlaine Harris' books will be familiar with the werewolf Alcide Heveraux, another love interest for Anna Paquin's Sookie. He will be played by actor Joe Manganiello, who has had recurring roles on One Tree Hill and How I Met Your Mother. Alcide's casting information calls him articulate and heroic, but a little rough around the edges. He helps Sookie in her search for Bill, but he has a psycho girlfriend named Debbie Pelt, who is a fascinating but much hated character in the books. Executive producer Alan Ball said at the Paley Center writers event that he was enjoying looking for the right actress to play Debbie, but he has yet to cast her.
Another werewolf will be played by Aussie actor Grant Bowler from Ugly Betty and Lost. His character, Coot, is the leader of a biker gang that tortures Bill and gets high on V.
We will also be meeting a few new vampires, including Russell, the vampire king of Mississippi. Denis O'Hare has been cast in this role–look for him to have issues with Evan Rachel Wood's Queen Sophie-Anne. Russell has a boyfriend named Talbot, who was described in the casting call as being an "intensely beautiful vampire with an acerbic sense of humor who loves to cook despite vampires' inherent lack of cooking talents." Greece-born actor Theo Alexander will be playing Talbot.
It seems as though Tara is getting over her prejudice towards fangs (and her sadness over the death of Eggs) because she will be forming an instant connection with a sexy vampire named Franklin Mott. James Frain of The Tudors is taking on this role.
Eric will also find himself in a new romance, with Yvetta, a Czech dancer at Fangtasia. Natasha Alam, an actress from Uzbekistan who has appeared on several episodes of The Bold and the Beautiful, will be the much-envied woman sharing intimate moments with Alexander Skarsgard.
Jason Stackhouse spent much of Season 1 naked and bed-hopping, and most of Season 2 buttoned up and abstinent (until that little incident in a later episode with Reverend Newlin's wife, Sarah). The new character Crystal Norris seems to indicate that Jason has reverted to his womanizing ways. Crystal will be played by Lindsay Pulsipher from Patrick Swayze's A&E series, The Beast. She is a barefoot, sundress-wearing woman who has electric chemistry with Jason.
At the end of Season 2, shapeshifter Sam Merlotte set off in search of his real family, which will take him to Arkansas. There he finds his younger brother, Tommy Mickens, played by Marshall Allman of Prison Break. Tommy works at a tire depot and acts suspicious when Sam first meets him, probably because the Mickens family seems to be in debt with many people in town. The fact that they are shapeshifters might also have something to do with it. Melinda, Sam's biological mother who is said to be trashy-looking and constantly hungover, will be played by Tony-nominated actress J. Smith-Cameron. Melinda is married to Joe Lee Mickens, a dirt poor, badly educated man, for which Cooper Huckabee has been cast.
We will finally be meeting the sure-to-be sassy woman who raised flamboyant fry cook Lafayette. Emmy-award winning actress Alfre Woodard has been cast as Ruby Jean Reynolds, who is an intensely religious woman. She is also somewhat deranged and being cared for in a private facility. One of the nurses there is an attractive and good-natured Latino man named Jesus Velasquez, who seems to be a likely candidate for Lafayette's love interest that Alan Ball has been teasing. This role has not yet been cast.
Shannon Lucio from The O.C. and Prison Break has been cast as Caroline Compton, Bill's wife from his human life in the Civil War era. She will feature in at least one important flashback scene, in which Bill returns home after being turned into a vampire. His wife accosts him with a shotgun, believing him to be an intruder, but then she realizes that it is her long-lost husband whom she thought to be dead.
Fans will also be pleased to know that young Danish actor Allan Hyde will be reprising his role as the 2,000-year old vampire Godric, whose wisdom and gentleness made his sacrifice in episode 9, "I Will Rise Up," one of the most emotional scenes of the series. He died on the hotel rooftop in Dallas when he met the sun, so he will probably be appearing in flashbacks with Eric.
Just as Season 2 had separate storylines going on in Dallas and Bon Temps, all of these character descriptions paint a story of Season 3 with many of the regulars spread out through Arkansas, Louisiana, and Mississippi.
SOURCES: The Hollywood Reporter, EW