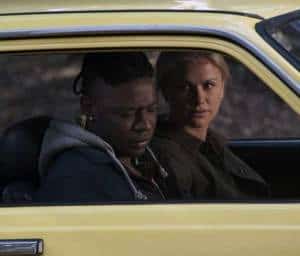 True Blood returns to screens June 10 on HBO and we have some promo photos that reveal new members to the ever expanding cast of vampires, werewolves, shapeshifters and fairies. We also have a sneak peek at a creepy Vampire Authority ritual as this higher power will take center stage in season 5.
Last season didn't end too well for Tara (Rutina Wesley) who doesn't feature in any of these new promo photos from HBO, though that isn't necessarily a sign that she will not be part of the show in some capacity. The new season will start where the last one ended and will see Sookie (Anna Paquin) and Lafayette (Nelsan Ellis) cleaning up the mess that has been left behind after the Tara and Debbie (Brit Morgan) fight. Lafayette is looking particular downbeat in the promo photos; this is what happens when your boyfriend has been killed and your cousin is possibly dead. Will Lafayette have an easier season on True Blood or will he be embracing his powers of communicating with the dead?
We were introduced to Scott Foley's Patrick Devins at the end of last season; a former soldier buddy of Terry's (Todd Lowe). There isn't anything to suggest that there is anything supernatural about Patrick, but he has come to Bon Temps to finish off something that started in Iraq and this doesn't sound like it will end well.
We will be meeting more members of the Vampire Authority this year that includes Christopher Meloni as Roman. The members of this mysterious and powerful group also include Carolyn Hennesy, Peter Mensah, Valentina Cervis and Jacob Hopkins. One member of the Authority is Nora (Lucy Griffths) who was "made" by Godric (Allan Hyde) and she is Eric's (Alexander Skarsgård) vampire sister. Nora also happens to be a double-agent working within the Authority; will she prove to be a useful ally to Eric and Bill (Stephen Moyer)? In the sneak peek below you will see that ancient rituals are very important to this group.
Also missing from the promo images is Russell (Denis O'Hare) who we know to have escaped his cement grave at the end of last season. We do however have a photo of Reverend Steve Newlin (Michael McMillian) in his new vampire form and this should be a lot of fun.
Are you looking forward to the True Blood cast expanding even further? Which new characters are you looking forward to meeting? Any of the season 4 cliffhangers you want to see resolved? Let us know your thoughts in the comments.
Watch a sneak peek below. True Blood season 5 premieres on HBO Sunday, June 10.