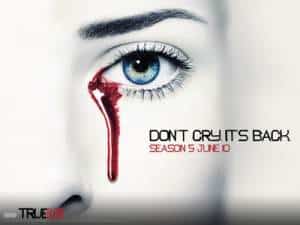 It is just over a week now until True Blood returns to screens and the folks over at HBO have released a new promo which shows a lot more of what we can expect from season 5. This looks set to be an action filled season and resumes from where season 4 left off. It also offers the first glimpse of a character that made a big impact in season 3 but was absent last year; Russell Edgington (Denis O'Hare)! We take a close look at what this promo shows and speculate what this could mean for the season ahead.
That's right everyone's favourite King was freed from his cement coffin by an unknown person/persons and you can guarantee that in his time underground he has been contemplating what kind of havoc he can cause when he has been freed. It is still unclear as to who freed the King; could it be the Vampire Authority? In the new promo Eric (Alexander Skarsgård) accuses Pam (Kristin Bauer van Straten) of doing the deed and her tear stained face and vehement denials of this would suggest that she isn't the one who did it. This relationship is clearly fractured and it will be strange to see this pair at odds with each other. Even more so as Eric and Bill (Stephen Moyer) are going to be working together and Alexander Skarsgård told Bullett Magazine that "Bill and Eric have to set aside their disputes and team up. They bond in the process; they have no choice. There's definitely a bit of a bromance going on there."
Pam isn't the only one have a hard time with accusations from those nearest to her as Lafayette (Nelsan Ellis) appears to be laying into Sookie (Anna Paquin) in this new promo and goes as far as calling her "The Angel of Death." We don't get to see Tara (Rutina Wesley) in the promo but we are reminded of Sookie returning home to find Debbie (Brit Morgan) in her kitchen holding a shotgun. This strong reaction from Lafayette indicates that all is not well for his cousin as we had expected after that shotgun wound to the head; is Tara dead dead or is she now a vampire?
The Russell Edgington news concerns Alcide (Joe Manganiello) as he played a part in the burial plot though Sookie meets this update with a hint of sarcasm as she proclaims "A 3000-year old vampire wants to suck my blood… Must be Thursday." Yep this is all becoming run of the mill for Sookie though she needs to be concerned as Russell knows all about her fairy blood.
We also get to see more of the Vampire Authority and Chris Meloni as Roman who looks pretty dapper in his suit until he gets spattered with blood of course. Also covered in blood for an unknown reason is Hoyt (Jim Parrack); what could have caused this? There is a brief glimpse of vampire Reverend Steve Newlin (Michael McMillian) and Lafayette's witch face, as well as a rather big explosion and Sookie's microwave fingers.
True Blood tends to start strong but can get muddled as the season progresses thanks to the vast amount of characters and storylines that are being covered so hopefully they will be able to introduce new characters and situations as well as servicing the older ones. With Bill and Eric teaming up this might focus more on them and less on the love triangle elements even though the romantic relationship aspect with Sookie will also have to be addressed. The Lafayette witch plot looks like it could be fruitful especially with this conflict with Sookie. I've always been a fan of Steve Newlin whenever he has appeared on the show so it should provide some comedic moments now that he is the very thing that he hates. There is definitely potential for a really great season and Denis O'Hare as the psychotic Russell Edgington should be an interesting foe. The Vampire Authority could also be a good outlet for new stories as long as they don't get bogged down in the mythology of it all.
What do you think of the promo? Are you looking forward to this season?
True Blood returns Sunday, June 10 on HBO.
Watch the new promo below and for promo photos and episode descriptions head here and here.