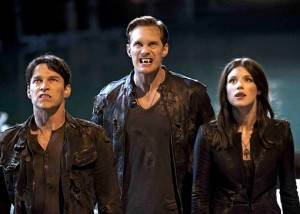 The HBO hit, True Blood, is returning for its fifth season on June 10. This upcoming season will consist of 12 episodes and new cast members for the season includes: Scott Foley as Patrick Devins, an Iraq war veteran who comes to Bon Temps to track down Terry Bellefleur, his former comrade; Christopher Meloni as Roman, the Guardian of the Vampire Authority; Valentina Cervi as Salome, a Chancellor of the Vampire Authority; and Lucy Griffiths as Nora, another Chancellor of the Vampire Authority.
Here are spoilery episode descriptions for all of the June episodes:
Episode 5.01 "Turn! Turn! Turn!", June 10 at 9:00 p.m. ET/PT
Sookie (Anna Paquin) and Lafayette (Nelsan Ellis) struggle with the aftermath of Tara's (Rutina Wesley) shooting, while also cleaning up after Debbie Pelt. Meanwhile, Bill (Stephen Moyer) and Eric (Alexander Skarsgård), cleaning up a mess of their own, are visited by the Vampire Authority, one of whom is Nora (Lucy Griffiths), a woman from Eric's past. In search of the missing Marcus, Alcide's (Joe Manganiello) werewolf pack comes after Sam (Sam Trammell). With Bill away, Jessica (Deborah Ann Woll) enjoys her new freedom by partying with local college kids; Jason (Ryan Kwanten) is visited by the recently turned Rev. Steve Newlin (Michael McMillian); Terry's (Todd Lowe) PTSD is reignited by Patrick Devins (Scott Foley), an old Iraq War buddy; and Alcide turns up at Sookie's to warn her about the recently resurfaced Russell Edgington (Denis O'Hare). Written by Brian Buckner; directed by Daniel Minahan.
Episode 5.02 "Authority Always Wins", June 17 at 9:00 p.m. ET/PT
At the Vampire Authority headquarters in New Orleans, Bill and Eric meet Salome (Valentina Cervi) and become acquainted with the Authority's interrogation techniques. Pam (Kristin Bauer van Straten) recalls her human life as the madam of the Comstock Brothel in San Francisco, and her first encounter with Eric. Werewolves J.D. (Louis Herthum) and Rikki (Kelly Overton) pay tribute to Marcus, but Alciderefuses to participate or take his rightful place as the new packmaster. Martha Bozeman (Dale Dickey) shows up wanting to see her granddaughter, causing conflict for Sam and Luna (Janina Gavankar). Fearing Russell's return, Sookie procures a home-protection system; Arlene (Carrie Preston) tries to get to the bottom of Terry's erratic behavior; Steve Newlin stops by with an offer for Jessica; and Jason feels the brunt of his womanizing ways. Written by Mark Hudis; directed by Michael Lehmann.
Episode 5.03 "Whatever I Am, You Made Me, June 24 at 9:00 p.m. ET/PT
Bill and Eric barter for their lives with the Authority Chancellors and their leader, Roman (Christopher Meloni). Salome and Roman enlist a new ally in the face of Russell's return. Sookie goes to Fangtasia to ask for help from Pam, who is still caught up in her memories of Eric and the strange murders at the Comstock Brothel. Andy's dalliance with Holly (Lauren Bowles) comes back to bite him in the butt; later, he's visited by Gordon (Steve Rankin) and Barbara Pelt (Linda Purl), who are searching for Debbie. Jason bumps into an old high school teacher, but their reunion brings up conflicting feelings. Written by Raelle Tucker; directed by David Petrarca.
For a preview of the new season of True Blood, click here.