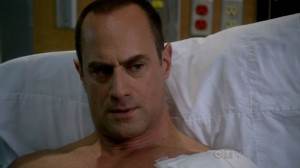 TVGuide is reporting that True Blood has found its latest guest star in Law & Order: SVU vet Christopher Meloni. Meloni will be playing an ancient vampire with power over Eric and Bill in the show's fifth season, scheduled to debut next summer, in his first TV role since leaving SVU. His character name and any detailed description have yet to be released, but when the show resumes production, the picture will be a whole lot clearer.
This, of course, isn't Meloni's first venture into pay cable drama, as he maintained a role on HBO's Oz for four seasons playing charming sociopath Chris Keller. He's also made appearances in two other Law & Order incarnations (Trial by Jury and the original series), Scrubs, and Homicide: Life on the Street, as well as films like Harold and Kumar Go to White Castle, Fear and Loathing in Las Vegas, and Wet Hot American Summer. After his run in True Blood next season, you can next see the Emmy nominee in Man of Steel with Henry Cavill (The Tudors) and Amy Adams (Enchanted).
True Blood has been as busy as ever filling out the world of Bon Temps, Louisiana for the upcoming season, including introducing Scott Foley's character Patrick at the end of season four before a season long arc in season five. HBO's biggest hit may have spent a majority of its time last season dealing with the fallout from an increasingly powerful coven of witches, but with the news of Meloni's casting, it looks like the vampires aren't being left in the dark just yet.
What kind of connection do you think Meloni's character has to Bill and Eric? Do you think he'll be around for longer than one season? Does this make you look forward to the next season of True Blood more?