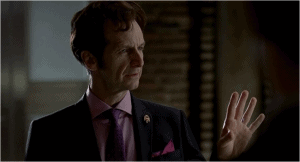 The Vampire Authority put their Sanguinista plans into motion, plans that will end mainstreaming on True Blood and Eric (Alexander Skarsgård) is resisting this change. While this story is progressing at full speed, several others such as Terry's (Todd Lowe) smoke monster issue and the hate group that are after all supernatural beings concluded. This means that the war that is coming between humans and vampires will be taking center stage for the final three episodes.
Eric's lack of religious beliefs have been clear, even when he was high on Lilith's blood and he makes a plan to escape the Authority headquarters with the help of Vampire Mac/Molly (Tina Majorino). This plan also involves Bill (Stephen Moyer) who claims that he is 'lost' and is uncertain what to believe. When Eric mentions Sookie (Anna Paquin) this seems like it might be enough to persuade Bill to Eric's side, but after an offer from Salome (Valentina Cervi) it looks like for now Bill has chosen Lilith. Eric is captured as he tries to leave the Authority building and he calls Bill a traitor. Eric also discovers that Salome had given Nora (Lucy Griffiths) some of Lilith's blood while Roman (Christopher Meloni) was still alive and Salome is definitely pulling the strings.
The Tru-Blood factories are being blown up one by one and as expected there is panic buying of this synthetic blood product. Pam (Kristin Bauer van Straten) tells Tara (Rutina Wesley) that it is business as usual in Fangtasia, which is until the new sheriff turns up and declares that feeding on humans is perfectly fine.
The supernatural hate group story comes to a close this week as Sookie manages to get herself inadvertently mixed up in it all. Sookie is investigating her parent's death and goes to see Sheriff Dearborne (William Sanderson) and it just so happens that he is heavily involved with the hate group. Thanks to a mixture of surprisingly good police work from Jason (Ryan Kwanten) and Andy (Chris Bauer) and Sam (Sam Trammell) and Luna (Janina Gavankar) using their shifter powers they reach Sookie and Hoyt (Jim Parrack) before it's too late. Sam and Luna are happy that this saga is over but sadly they will have more drama to contend with; while Russell (Denis O'Hare) is visiting the werewolf pack he takes Emma (Chloe Noelle) as a gift for Steve (Michael McMillian) as he has never had a pet before.
The smoke monster story has also concluded with Patrick (Scott Foley) trying to take control of the situation by taking Arlene (Carrie Preston) hostage as a means to kill Terry. This ended with one of the men losing their life but it is Patrick not Terry that ended up dead, with Terry shooting Patrick. This is enough for the curse to be lifted and hopefully Terry and Arlene can return to a spirit free existence.
In the August 12 episode "Gone, Gone, Gone" Russell reveals that fairy blood isn't a myth and it can allow them to walk in the sun and this is something that Russell demands. This might be why Sookie is seen in the preview below with a gun in her dark house as she has been warned by the fairies that a war is coming. Eric has been given a choice between Lilith and the true death and Nora will try to convert him. Pam suggests to Tara, that with the arrival of Elijah they will have to leave and live in the wind. When Luna discovers who has taken Emma she will be do everything in her power to get her daughter back safe.
Watch the promo for the August 12 episode below and for more coverage of the show, including sneak peeks, photos, spoilers and more, browse and bookmark our True Blood page.