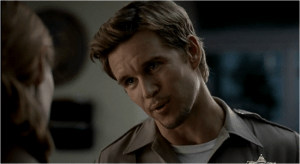 With just two episodes to go, this season of True Blood is gearing up for a big battle as all of the different supernatural stories are entwined. It isn't simply a case of humans vs. vampires as Russell Edgington (Denis O' Hare) reveals that he will walk in the sun again, placing Sookie (Anna Paquin) and the fairies in danger. We also said goodbye to a character tonight and for once it wasn't in a pool of blood.
Hoyt (Jim Parrack) left Bon Temps for a new job and life in Alaska and before he left he met with Jason (Ryan Kwanten) and Jessica (Deborah Ann Woll) to say farewell. With this see ya, Hoyt also asked Jessica to glamour him so he could move on and forget the relationships he shared with his first love and best friend. Jessica reluctantly agreed and Hoyt drove off to his new destination minus the heartbreak. Neither Jessica nor Jason have much time to mourn the loss of their friend (I know he's not dead but he's lost to them) as Bill (Stephen Moyer) sends for Jessica and Jason has Sookie related drama to attend to.
Sookie is attacked in her own home by Mike (John Billingsly) the coroner who is now a vampire, well he is temporarily a vampire as Sookie manages to stake him. While Sookie is packing up some things to stay at Jason's, Jason discovers what their Gran was talking about when she gestured to under the bed from the other side. There is a fairy scroll under the bed and they go to the fairy club to get it translated; it turns out that it is a contract that essentially promises Sookie to Warlow.
The fairies better watch out for Russell who has now left the Vampire Authority as they dismissed his ideas of making a Tru-Blood style fairy blood substitute. He wants to walk in the sun and he is determined to make this happen, with or without the Lilith praising. Russell reveals that Bill and Eric (Alexander Skarsgård) have both drunk fairy blood, causing the pair to share a look of concern as they surely know that Sookie is in danger. Eric has managed to convince the group that he is now on the side of Lilith, though at this point it still feels like an act, with Bill it is less obvious as to whether he believes what he is saying.
Sam (Sam Trammell) and Luna (Janina Gavankar) have managed to sneak into the Vampire Authority in the form of mice as they search for Emma. Also facing a dangerous time is Pam (Kristin Bauer van Straten) and Tara (Rutina Wesley), as business is slow and they are being forced to make new vampires by their new Sheriff Elijah (Keram Malicki-Sánchez). Tara takes matters into her hands and kills Elijah which solves their short term issues but who knows what punishment Tara might face for this act.
In the August 19 episode "Sunset" the military comes to the Vampire Authority with an ultimatum as they have some damning video of Russell and Steve (Michael McMillian). Will this warning stop the war that is brewing? Bill continues his religious journey and gives Jessica an order that she doesn't want to complete and he also has some strong Lilith visions. Sookie is tired of running and could be facing Russell as he puts his fairy blood plan into action. It doesn't look so good for Jason if the preview is anything to go by; are we about to see another character turned into a vampire as the image of Jason and Jessica in the ground would suggest? The Vampire Authority visit Fangtasia which spells trouble for Tara and Pam.
Watch the promo for the August 19 episode below and for more coverage of the show, including sneak peeks, photos, spoilers and more, browse and bookmark our True Blood page.