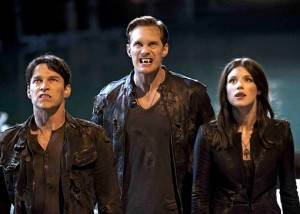 The waiting is over and True Blood season 5 returned with a bang and picked up where we left it; with Tara (Rutina Wesley) taking a bullet for Sookie (Anna Paquin) and appearing in a very bad condition. We found out immediately what the result of this wound was but it was left until the climax of the episode before this was fully resolved, in a moment that even though it was expected still made me jump. There was a lot to catch up on (the 'previously on' segment ran for over two minutes) so let's dive into what happened in the premiere before we look to next week's preview (and check out our review here).
Thanks to a well timed visit from Pam (Kristin Bauer van Straten) who was seeking Eric (Alexander Skarsgård) to seek his forgiveness the Tara solution was the one that most predicted; they were going to turn her. Due to her injuries however there is no guarantee that this would work and it appeared to fail, that was until the final moment that showed Tara springing to life and Sookie screaming. How will Tara react to becoming the thing that she hates most? Lafayette is not only dealing with this Tara related drama but also the fact that he killed his boyfriend while he was possessed. Jesus' (Kevin Alejandro) body also appears to have disappeared; who would have taken his body and why?
Eric and Bill are trying to escape the clutch of the Authority which appears to be going well with the assistants of Eric's 'sister' Nora (Lucy Griffiths). Luckily Nora is only Eric's sister by maker Godric (Allan Hyde) otherwise this would be another HBO show with an incest story. Bill looks less than impressed with having to hear their reunion but it is good to see Bill and Eric working together as a team. They are also aware of Russell Edgington's (Denis O'Hare) freedom though they are recaptured by the Authority at the end of the episode so have bigger things to worry about.
Sam (Sam Trammell) has to face up to Marcus' (Dan Buran) wolf pack who wants him dead for killing Marcus. Sam didn't kill Marcus but doesn't reveal that Alcide (Joe Manganiello) was the one who did the deed. Alcide admits to his role in Marcus' death which makes him the new leader of the pack.
Jason has a surprise admirer in the former or Rev. Steve Newlin (Michael McMillian) but luckily Jessica (Deborah Ann Woll) comes to his rescue. Sadly for Jason, Jessica still wants to keep things casual and uses Bill's absence to throw a small party with some college kids.
We are starting to find out a little bit more about Terry (Todd Lowe) and his Marine buddy Patrick (Scott Foley) and there is definitely a lot of tension here. It turns out that there have been several fires like the one at Terry and Arlene's (Carrie Preston) house with other members of Terry's Marine troop and these have resulted in deaths; are they connected?
In the second episode of season 5 of True Blood that airs Sunday, June 17 we will see Bill and Eric face the Vampire Authority in their headquarters in New Orleans. Here we will meet Roman (Christopher Meloni) and Salome (Valentina Cervi) and Bill and Eric will endure the Authority's interrogation techniques. We will find out more about Pam's past, including her time as a human when she was a madam of the Comstock Brothel in San Francisco. This will also include her first encounter with Eric and is hopefully the flashback that we've all been waiting for. Tara will be sporting some new fangs and possibly using them on Sookie if the preview is anything to go by. There will be more werewolf drama as Marcus' mother wants to meet her granddaughter and Alcide doesn't want his new role. Arlene is also going to try to get to the bottom of Terry's erratic behavior.
Watch a preview below for the June 17 episode of True Blood, airing at 9:00 p.m. ET/PT on HBO.