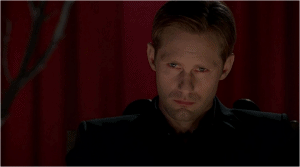 Bill (Stephen Moyer) and Eric (Alexander Skarsgård) have been given their temporary freedom this week on True Blood, but we are reminded that they are still in a precarious position; either Russell (Denis O'Hare) will get them or the Authority will. Their investigation revolves around finding out where Russell is and who freed him and they didn't have much luck with either part, but they will have to get something soon as there is a giant ticking clock dangling above their heads.
There are only four people who knew of Russell's burial site; Pam (Kristin Bauer van Straten), Alcide (Joe Manganiello), Bill and Eric. They have determined that Pam wasn't the one to reveal this hiding place and Eric and Bill reassure each other that they didn't either, Bill even sweeps his house with the help of Jessica (Deborah Ann Woll) for bugs. That only leaves Alcide who is having a drunken passionate moment with Sookie (Anna Paquin) just as Bill and Eric are observing outside her house; awkward and creepy. Bill suggests that Sookie could be useful in their hunt and that he would be willing to make her help if she doesn't comply.
Sookie has got drunk after her rough few days; she is the reason Tara (Rutina Wesley) is a vampire, she killed Debbie (Brit Morgan) and her car decided to go crazy. It wasn't really her car but bad demon face Lafayette (Nelsan Ellis) who did this to her car after his normal self called her the angel of death. Tara blames Sookie for her condition and tells Bill that everyone should stop saving Sookie as Sookie always ends up fine, while all around her is ruined. In the case of Debbie Pelt, Sookie is in the clear as Alcide told Debbie's parents that Marcus (Dan Buran) did it and Jessica glamours Andy (Chris Bauer) to forget about the case.
Last week Tara tried to kill herself and as predicted Pam saved her from her tanning bed of death. Pam also used her powers as Tara's maker to get her to feed on a human for the first time. Pam was reunited with Eric and after an intense fight the pair had a sweet scene where Eric convinced Pam that it was time to sever their maker/progeny bond and considering his certain death predicament Pam reluctantly did so.
Elsewhere Jason (Ryan Kwanten) and Andy were taken to a fairy realm/safe house/burlesque type club where Jason saw his cousin Hadley (Lindsey Haun) working there. As always Hadley let slip a bit too much information and suggested that Jason and Sookie's parents weren't really killed by a flood, but by vampires.
There is conflict within the Vampire Authority as Roman (Christopher Meloni) is convinced that Nora (Lucy Griffths) isn't the only Sanguinista within the Chancellors. This fear turns out to be correct and by using the iStake app and threatening to kill Eric, Nora gives up the other traitor; it is Alexander Drew (Jacob Hopkins) the child member and Roman stakes him in front of the others.
Terry (Todd Lowe) and Patrick (Scott Foley) are in South Dakota and find their Marine buddy Brian (Brian Geraghty) who they believe might be responsible for the fires. We flashbacked to Iraq and saw that Terry was present when innocent Iraqi citizens were killed. Having such a real life moment in True Blood is jarring and the pair is now being held at gunpoint by Brian in his bunker.
The July 8 episode "Let's Boot and Rally" shows that Brian fears that something has followed Terry and Patrick and that if he kills them then Brian might be forgiven. Bill and Eric are given until dawn to find Russell and they have back-up from Sookie and Alcide it would seem. Bill accuses Eric of not being able to keep his mouth shut but who is the 'she' that Bill refers to? Someone offers themselves to Tara but will she feed? Lafayette continues to have demon problems and he asks for help from the other side. The Sanguinista moment continues to threaten the pro-mainstream Vampire Authority with Nora threatening that "We will rise up."
Watch the promo for the July 8 episode below and for more coverage of the show, including sneak peeks, photos, spoilers and more, browse and bookmark our True Blood page.