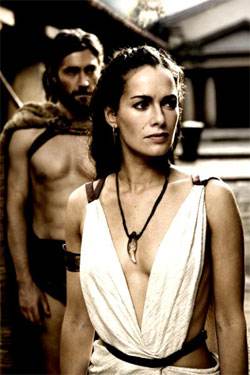 Now that Terminator: The Sarah Connor Chronicles is done (*sob*damn you, Fox!*sob*), former cast member Lena Headey is moving over to HBO's new series Game of Thrones. I love any shows and movies that focus on royal families, so I'm already sold on this one.
Turns out that this show is actually based on a series of books by author George R. R. Martin (does he really need two Rs in his name?) called "A Song of Fire and Ice". I have never heard of this series, which means that I will head over to Amazon and quickly purchase it. Four of the seven books of the series have been released, with the first one entitled "A Game of Thrones".
Apparently, the books are set in the Seven Kingdoms of Westeros, which had emerged from civil war about 15 years prior to the start of the book. The book follows several royal families and kingdoms as each of them fight for power. If you want to read more about the plot, check out the Wikipedia page.
David Benioff and D.B. Weiss will be executive producing and writing for the series, which will start shooting in Northern Ireland in October, in partnership with BBC. Apparently each season of the series will follow the plot of one of the books.
Lena Headey wil be playing Cersei Lannister, queen to King Robert (played by Mark Addy – The Time Machine) and sister to Tyrion (Peter Dinklage – Prince Caspian) and Jamie (Nikolaj Coster-Waldau – New Amsterdam). Other actors cast in the series include Sean Bean (The Lord of the Rings), Jennifer Ehle (Pride and Prejudice) and Harry Lloyd (Robin Hood). The cast is HUGE, so expect a lot of complex storytelling, probably similar to HBO's Rome.
As some will recall, Lena also played a queen in the movie 300, co-starring Gerrard Butler. No word yet on when the series will debut.
Source: Hot Fix