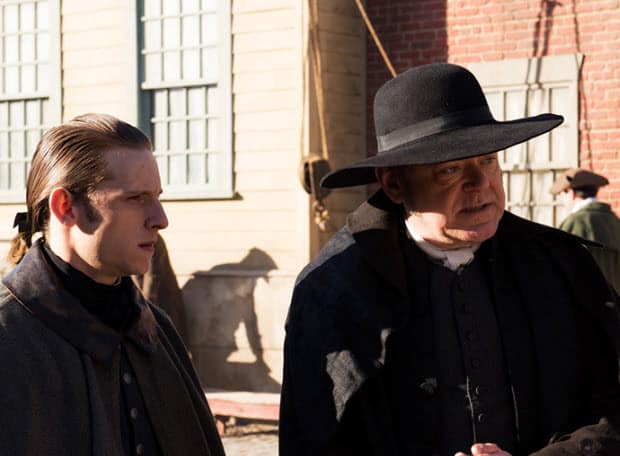 We're now on week three of AMC's new drama Turn, and I have to say that I have yet to be disappointed by this new Walking Dead replacement. As we continue deeper into the lives of our characters, we find that the stakes go higher and higher by the day. This week was no exception.
Last week, we watched Ben and Caleb get caught just before they killed John Simcoe, and they are all carted off toward Virginia by one of Ben's superiors. On their way there, they are stopped by a hoard of civilians travelling toward them. From them, they learn that Virginia has fallen, and that they may even have General Washington (though if you know your history, fear not)!! So Captain Tallmadge's court martial is taken off course, and into the home of some "rebel" sympathizers. Against his orders, Ben covertly sends Caleb to get some more intel from Abraham. After Caleb is gone, some of their soldiers change their allegiance, and "turn" (see what I did there?) on Ben and General Scott. The turncoats have strength in numbers, but the captain and the general have military prowess on their side (previously showcased by Ben's character in previous episodes). After an all-night standoff in which even Simcoe changes hands, Captain Tallmadge comes up with a plan and emerges victorious from this miniature battle. This part of the episode was extremely exciting, and not only creates reverence for Ben Tallmadge (and his prowess in the art of battle), but reinforces the strength of the Simcoe character every chance it gets.
Meanwhile, Abraham plans to leave the spy life behind and goes to New York Island with his father. His father (Judge Woodhull, convincingly played week in and week out by Supernatural's Kevin McNally), takes him there in an effort to make him his "business representative". Abraham would handle all of the long-distance transacting from that point forward. Abraham proves himself a shrewd negotiator with nerves of steel while in the negotiation, but learns some disturbing information about his father's intentions with Anna's crop. While I truly believe that Abraham WOULD have left the spy life behind for good, his father has touched a nerve (obviously) when it comes to Abe's former flame. Abe, in his anger, went out and almost immediately found some soldiers that he could weasel information out of. Abe returns home and finds Caleb hiding in Anna's barn, so he gives Caleb the information. Caleb is overjoyed, and Abraham and Anna subsequently help him escape.
A couple of brilliant small scenes include Mary (Abe's wife) speaking to the British soldier quartered in her home. He tells her that he sees Abe at the pub quite frequently, and she assumes the worst. Following that, Mary meets with Anna to tell her that she simply wants to maintain their reputation, and it's okay if she and Abe have an affair. Didn't see THAT coming. Oh and of course there's that little bit about Simcoe not being dead. Caleb shared the truth with Anna, who then lies to Abe about it. What a tangled web we weave.
This episode was jam-packed with short dramatic scenes and tense situations. While the standoff at the sympathizer home seems the most obvious, seeing Ben interact with his General, Mary with Anna, and Simcoe with his captors all made for extremely compelling moments. I'm quite convinced that this dramatized version of John Simcoe is a complete psychopath, but no matter what his intentions, the portrayal is excellent and extremely compelling. I can't quite figure out John Simcoe but I'm extremely interested in where the character goes.
Week to week I find the acting in this show more impressive. While one of last week's standouts was noticeably absent (Angus McFayden's Robert Rogers), the rest of the cast stepped up. I thought for awhile and couldn't pick one actor over another, as each has noticeably stepped up their game in episode 3. The stakes are now higher than ever, and I'm hanging on for every minute. I look forward to continuing on as the story complicates, and getting history lessons along the way. What about you? Are you still watching Turn? What do you think? Thanks for reading as always, and I'll see you next week!
[Photo via Antony Platt/AMC]