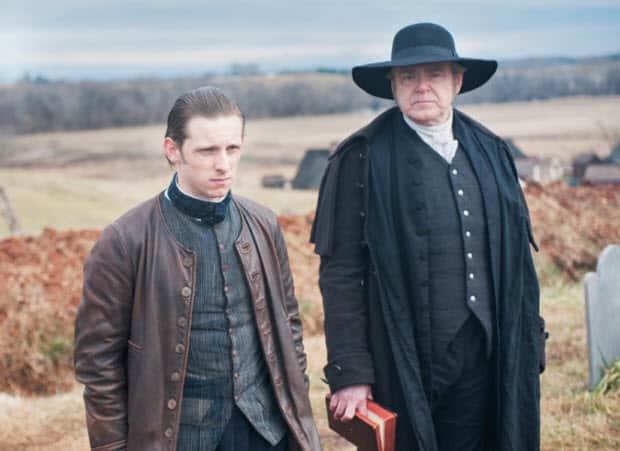 Another week, another juicy spy story from AMC's new drama, Turn. 
I keep worrying that they won't continue to raise the stakes as the weeks progress. So far, however, I've been wrong. This week we found the plot thicken in several ways, but mainly the way that our man Abraham Woodhull is becoming more and more interesting and spy-like daily. After all, a show is nothing without it's main character, and my concerns from the beginning about Abe being a wishy-washy, generally incompetent spy have been quelled. He's actually quite good at it.
This week, Caleb and Ben were trying to get Abe's information to General Washington, but General Scott (Ben's superior) would have none of it, since the source was trying to remain anonymous. So Ben and Caleb devise a way to get a scout to manufacture a report, and slip their information inside the longer letter. Ultimately, this plan worked, and the information does arrive for General Washington, although it looks like it may be awhile before he gets to it. Caleb and Ben usually have the better stories, so it was interesting for them to take it slow this week. I became suspicious of General Scott this week. I'm not sure why, but something about him seems off. I could be totally off base, but I did get a weird vibe from his reluctance to send General Washington that information.
John Andre (who we last saw recruit his lady of the night to being a spy) uses his new "tavern wench" spy to capture a rebel general, who it turns out was responsible for giving them the safe house in which the ambush on Simcoe's men happened. In a weird turn of events, John Andre conspires with the rebel (previously royal army) officer and the two come to an agreement. I'm not entirely convinced that John Andre HAS a side in this war.
Back in our small New York town, Major Hewitt (the Royal army major quartered in Judge Woodhull's home) wants to use gravestones to build the barricade protecting their town. Judge Woodhull and Abe have loved ones buried in that cemetery, so they obviously do not take kindly to this. The judge agrees to help Major Hewitt build a list of the ones that will most likely not be condemned by the town. Unfortunately, this proves an impossible task. The town is in uproar (thanks to Abe's wife Mary, who blabbed) and Judge Woodhull is at the center of their anger. Abe takes to defense of his father (even smacks and threatens a man with a knife! Go Abe!) and also uses the opportunity to try and plant a seed of doubt in the Royal Army. However, Abe's advice does not get followed, and Judge Woodhull instead gives up his own son's gravestone to help the cause, and everyone else from the previously angry mob follows suit. The only townsman that remains angry is (of course) Abe. Major Hewitt also takes a quick opportunity to show us American viewers how terrible the British are. Apparently, the gravestones was a manipulation tactic of both the town and the Continental Army. Jerk!
Tonight was not as action packed as the previous weeks episodes have been, but it was extremely compelling in the dramatic elements. Abraham's character is turning into quite the rebel, and he doesn't seem so much the reluctant farmer spy now so much as 1770's James Bond. He keeps a level head, lies with ease, and is becoming a master manipulator. Jamie Bell shows us every week that he deserves to be the star of a series.
This week's shining star, however, was Kevin McNally. I'm sure you know Kevin as Mr. Gibbs from the Pirates of the Caribbean series of films, or perhaps for his brief stint as Frank Deveraux on Supernatural. I've always been a fan of his work (the two aforementioned in particular) and I know his strength as an actor, but it was his character tonight that really impressed me. I've always seen Judge Woodhull as staunch loyalist who doesn't often question authority. However, when placed in these circumstances, McNally played an extremely conflicted man. He took center stage this week and he handled it with extreme grace. The dynamic developing between Judge Woodhull and Abe is becoming extremely interesting to watch and one of the highlights of the show.
This was another extremely compelling episode, and next week looks like it's going to be action packed! What did you guys think? Are you watching (you should be!)? What did you think of this week's episode?
[Photo via Antony Platt/AMC]