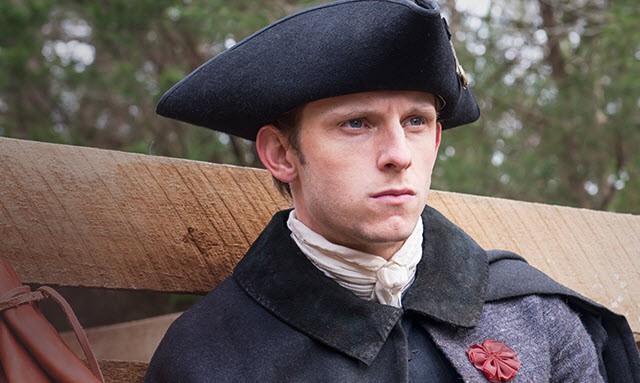 Whoa! This week's episode of AMC's Turn was quite twisty, turny, and everything in between. The history knowledge I've gained over the years has been helpful in following the series, but I knew very little about this spy ring going in, so throwing bits and pieces of recognizable history has been a really intriguing way to tell this story.
Tonight's episode was a tad confusing but a lot interesting. At the beginning, AMC shows us a different Abraham Woodhull than the one we've been getting to know. We see a polished spy, who knows exactly what to do, and what to say, and where he is going. Â This Abraham Woodhull, however, is caught by a soldier, and is shot during a scuffle. Now you have to admit, to see the main character shot to death in the sixth episode of the series is a tad disconcerting. While some believe this is merely foreshadowing to the death of the character, I actually believe it was a story playing out before us, invented by the new character introduced to us tonight, Nathaniel Sackett, spymaster.
Sackett (played by Justified's Stephen Root) was brought on by Washington to further discuss the intelligence received by Captain Tallmadge and relayed to him. It was extremely interesting to watch this all play out. Sackett didn't think Ben's tactics were sound, and General Scott dismissed his approach altogether. By the end of the episode, Washington not only revealed how he knew Abraham Woodhull's name (he heard it along with Ben's from a mutual friend named Nathan Hale, a pretty significant historical figure), but he promoted Ben to Major and put him in charge of intelligence, while sending General Scott back to the front lines of battle. I never liked him anyway.
This week's episode also began with a prisoner exchange, in which John Simcoe was returned to the Royal Army. It's been a few weeks since we've seen Simcoe, but he plays a small but integral role in the evening's events. Simcoe and the fellow returned prisoners are invited to dinner with John Andre. He meets individually with each soldier, before having dinner with them all. We learn along the way that Sackett has a mole inside the soldiers who have been returned. John Andre (played masterfully thus far by JJ Feild, of Captain America: The First Avenger fame), has discovered the mole, but Simcoe has too, and kills him right at the dinner table. Andre is furious with Simcoe, and said he had planned to turn him into a double agent. Simcoe and his apparent ambivalence for anything other than blood is slightly disturbing but well fleshed out, and he will return to house Strong, shortly. Yikes!
John Andre was brief but pivotal in this episode. Not only does he call attention to Simcoe's bloodlust, but he also shows great kindness to the slave sent to him from Anna's, Abigail. He shows her how Englishmen use their forks, and how he prefers to have his table set. He also insists that they send her son a gift for his birthday. Abigail, in the last episode, vowed to spy for the Continental army, but that was before Andre was so kind to her. Andre (who discovered the mole by the way he used his fork to eat, if you were paying attention) could be playing Abigail into turning spy for him, or he could genuinely be kind and caring. He wants to win the war, but I haven't seen anything from him that would suggest he is like Simcoe in any other way. I'm very intrigued by the character and I am very interested to see where it goes.
Another slave formerly of the Strong household is named Jordan. Jordan is only gone days before he gets into a scuffle with some of the Queen's Rangers. Richard Rogers, however, sees his potential and uses it. Jordan agrees to fight one of Rogers' men, and beats him. During the fight, Rogers has received some intelligence about Captain (Major) Tallmadge, and told that Ben has a brother alive on a prisoner ship in New Jersey. After the fight, Jordan has been informed that he's been recruited by the Rangers. This could be bad news, for Abigail, for Ben, or maybe most of all, for Captain Rogers.
Abe, meanwhile, is kidnapped when he's on his way to New York, and by a member of the Continental Army no less. This man plans to pose as Abe and infiltrate New York (which makes you second guess what you saw at the beginning, but the beginning is Abe, I assure you). Abe tries to reason with him, and explains that he's a spy for the Continental Army. The two have…shall we say…differing views on what it means to be courageous and fight for what you believe in. Lucky for Abe, his cart is found by the Royal army and the soldiers come to his rescue, BUT, he's no longer allowed to travel alone, which could put some wrinkles into this whole spy thing. Just sayin'.
Tonight's episode was intriguing on a whole new level. We were missing some of our favorites (Anna, Judge Woodhull, Caleb, etc.) but the ones we get are loaded with layers to their characters. Acting superlatives have to go to JJ Feild (John Andre) and Seth Numrich (Ben Tallmadge) this week. As weeks go by, I become more and more fascinated by John Andre's character, and that is due to the nuanced performance of Feild. Andre is the closest I've ever come to sympathizing with the Royal Army, and I find his character infinitely fascinating. Â He's got so many double agents, he just might be working for the wrong side. Numrich also delivers a wonderfully layered performance of newly-promoted Major Tallmadge. I, for one, would be too starstruck to even speak to General Washington, but Tallmadge speaks beautifully. Numrich takes the character's quiet strength to new level, but his words are sharp in all the right places. Ben Tallmadge is quite a fascinating historical figure and character, but Numrich deserves a lot of credit here.
I'm fascinated by this week's episode. What Turn (that never gets old) will they take next? I'm really excited by the active approach they've taken to General Washington's involvement in the spy ring (and the series) and I'm looking forward to finding out more about the scene with Abe at the begining, also. What drama will unfold when Simcoe returns to that poor Setauket next week? Only one way to find out!
[Photo via AMC]